Our People
Patron
Auckland Operational Support had never had a Patron. 75 years seemed a long time to be without one so it was decided to look for a suitable person to fill the role, an appointment which would be made during 2008, to tie in as part of the Unit's 75th anniversary celebrations. Thus at the 75th Annual General Meeting Chief Fire Officer Jim Smith announced the unanimous election of the Unit's inaugural Patron.

David Neil

Until his recent retirement David Neil was for many years a senior executive officer with the New Zealand Fire Service in Auckland during which time he was a keen supporter of the Unit. He accepted the Unit's invitation to be its Patron and was installed to the position on 15th September 2008.
Current Members
Members
Unit Photo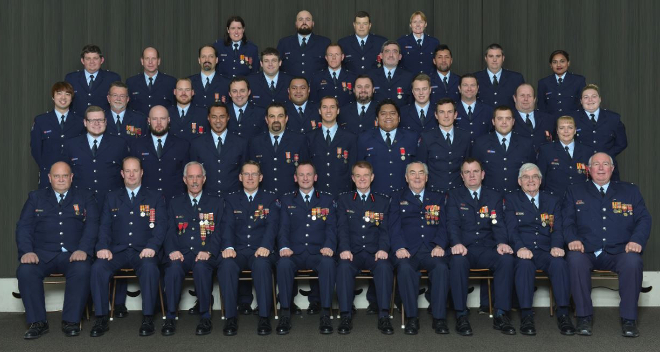 AUCKLAND VOLUNTEER OPERATIONAL SUPPORT UNIT
JULY 2017
This photo was taken to mark the transition from the New Zealand Fire Service to Fire and Emergency New Zealand; this is the last group picture showing members of what was the New Zealand Fire Service's largest Volunteer Fire Brigade, the Auckland Volunteer Fire Brigade. On 1 July 2017, Brigade members transferred automatically to the jurisdiction of the new organisation, Fire and Emergency, which absorbed all former New Zealand Fire Service and National Rural Fire Authority Brigades and Fire Forces.
Back Row:
QFF Amanda Cuthbert - FF Shayne Mardon - VBS Anthony Sampson - RFF Mary Harding
4th Row:
FF Chris Mellars - QFF Brett Grant - QFF Ian Batterbee - QFF Jonathan Sadler - QFF Hayden Chisnall - RFF Abel Reyna-Rivera - RFF Melani Falaniko - FF James Somerville - FF Zeenat Bi
3rd Row:
RFF Jeffrey Yik - QFF Kevin Stillwell - QFF Dean Serjeant - RFF Justin Scott - QFF Kepueli Hanisi - QFF Stuart McLean - RFF Jack Bryant - RFF Richard Christie - QFF Patrick Robinson - RFF Sarah Sanford
2nd Row:
RFF Kieran Liddington - FF Nick Mackle - QFF Unga Koloamatangi - QFF Matt Walker - QFF Mark Potter - SO Alexander Chan See - FF Jonathan McKessar - RFF Nino Bianco - QFF Jackie Watson
Front Row:
SO Duane Carnell - SO Dan Scott - SO Jim Smith - SSO Allan Officer - DCFO Ross Bay - CFO Glenn Teal - SSO Ric Carlyon - SSO Richard Cuthbert - SO Peter Duncan - SO Chris England
Absent:
SO Keith Ashton - QFF Nigel Hohaia - QFF Tim Dickinson - QFF David O'Connor - SO John Hall - FF Ashleigh Young - FF Olyvia Singh - FF Gary Wyatt - RFF Nasif Khan - QFF (HM) Mark Foster