News - 2009
Farewell, Noughties
27 December 2009
Each year in the decade known as the "Noughties", Auckland Fire Police responded to more than 600 working calls, average, in our growing fleet of vehicles, increasing from one van in 2000 to three urgent response vehicles with the old Ford canteen replaced by a brand new Iveco, the addition of the ablutions trailer and added oversight of the Communications Caravan. In 2001 we celebrated International Year of the Volunteer: the Unit received a unique goodwill message from the Secretary-General of the UN while each serving member received a special medal. In July 2003 occurred the busiest night, (probably ever), for the Fire Service in Auckland with no fewer than 13 fires in various downtown buildings, some Greater-Alarms, one fatal. In mid-decade Unit members joined the Intranet and SMS from home PCs, linking us to the Fire Service data bases. Two members, CFO Jim Smith and SO Ric Carlyon were honoured in the 2006 Queen's Birthday list, the first in the Unit to be recognised in this way. In 2008 we celebrated our 75th Anniversary, that year ending with Auckland's biggest fire in living memory at the former Southdown meat works. Fire Police also contributed to wider activities during the decade... some members trained as NZFS regional radio operators, we participated in the process towards proposed (but aborted) fire service legislation, we took the Canteen to assist at the tragic Tamahere fire in Waikato, members provided invaluable help at the 2006 UFBA Conference at Sky City, we travelled to Rotorua to help train counterparts there, CFO Jim Smith was President of the Fire Brigades' District Sub-Association, Fire Policeman Russell Allen presided over the Auckland Provincial Association of Fire Brigades while SO Ric Carlyon serves on the UFBA Board of Directors. And Unit officers contributed to the formulation of an NZFS training programme for Fire Police, the first designed for nation-wide implementation. We farewelled 3 long-serving members during the decade - SO Alan Baldick (36 years' service, 30 as Unit Secretary), SO Peter McGeachen (32) and FPC Grant Wilson (31). The Noughties end with one of our number, SO Bay elected to be Anglican Bishop of Auckland and, on the horizon, constitutional changes forecast so that the Unit complies with new legislation.
Season's Greetings
23 December 2009
Chief Fire Officer Jim Smith, the officers and members of the Unit wish all our friends on the internet a very merry Christmas, happy holidays and a safe New Year.
New Bishop: Fire Policeman Appointed
6 December 2009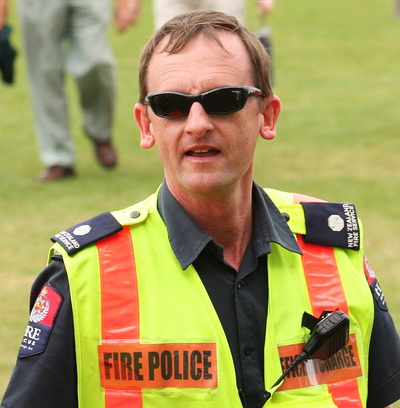 Member of the Auckland Volunteer Fire Police Unit, Station Officer Ross Bay, has been elected the 11th Anglican Bishop of Auckland, overseeing the church's activities in the largest Anglican Diocese in New Zealand. His new position takes effect in March. It's just 2 years since the Very Reverend Ross Bay was ordained Dean of Auckland and in that time his colleagues at Holy Trinity Cathedral in Parnell have become quite used to him responding to calls, sharing his time with our volunteer fire unit. "Ross has been a popular member and regular attender at all kinds of emergencies since he joined Fire Police more than 20 years ago" says the Unit's Chief Fire Officer, Jim Smith. "He's also one of our Training Officers. I am certain all members of the Unit, and the wider fire service community, will join others wishing Ross well in his new position".
Major Avondale Blaze
3 December 2009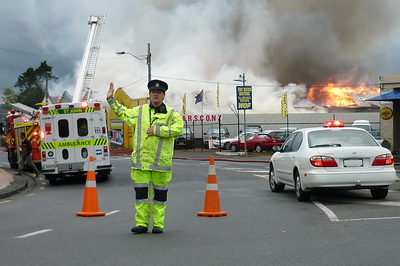 Members were engaged for nearly 5 hours at tonight's fire in Avondale which ripped through a block of premises occupied by 5 businesses: destroying some, badly damaging others. Top priority for Fire Police was traffic management at the busy Great North Road/St George Street roundabout to enable Greater Alarm fire appliances, 2 ambulances and other emergency services to get access to the scene. In the interests of public safety and to relieve traffic tailbacks through New Lynn, members also closed Great North Road at Portage Road, more than a kilometre from the fire, diverting motorists around the fireground and away from smoke and fumes. The busy arterial route, Great North Road, was closed all evening, reopening just before midnight. Several residential streets in the vicinity were also closed. Fire Police, as well as other fireground duties, reviewed and maintained inner cordons when it was advised the cause of the fire was suspicious.
Business Excellence: Fire Wins Silver
20 November 2009
The Unit is pleased to have contributed to the process behind today's announcement that the New Zealand Fire Service has been awarded Silver in the prestigious Business Excellence Awards. The Unit was proud to have been one of a few selected volunteer brigades to participate in assessment processes. 4 years ago the Fire Service won Bronze. Welcoming today's Silver Award, National Commander Mike Hall says it shows the Service is at the forefront of business and organisation practice, judged by independent evaluators to international standards. "Notwithstanding this world class result" says Mr Hall, "we are committed to introducing further improvements".
Open Day in South Auckland
18 November 2009
The Unit's joining other emergency services and community groups this Sunday, 22nd November, for an Open Day being held at the TelstraClear Stadium, Great South Road, Manukau. The Fire Service, along with Police and St John Ambulance, will spearhead emergency services' working displays and exhibits to give visitors an opportunity to see, first hand, latest equipment, rescue techniques and helicopter operations. Civil Defence and Armed Services will also be on display, plus local community organisations. The hours for the Open Day are 10am - 4pm. Admission and car parking is free.
Major Fire at Mt Wellington
17 November 2009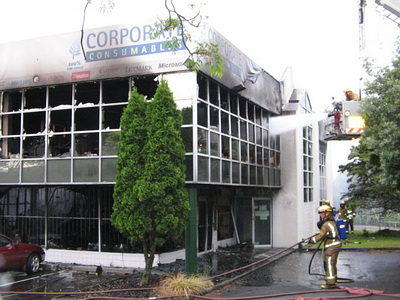 This evening's 4th Alarm blaze in Mt Wellington consumed, entirely, the warehouse premises belonging to Corporate Consumables, suppliers of office and IT consumables. Fire swept through the two-storey building in Fisher Crescent leaving stock and furnishings destroyed, the roof collapsed and outer walls bulging. 22 members of the Unit were deployed on multiple tasks during the fire, which began soon after 4pm. The timing meant Fire Police managed traffic during the busy evening peak hour, congestion exacerbated by the limited access in and out of the industrial area.
Rescue at House Fire
9 November 2009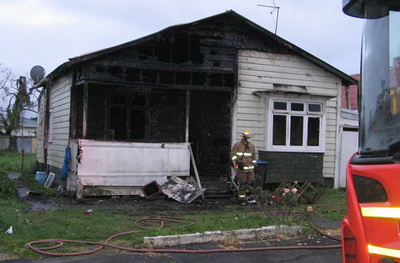 Members assisted at a house fire in Avondale this morning where an occupant was rescued by his neighbour. Les Redshaw saw smoke and flames coming from the house next door... "and then there was a loud bang inside, quite an explosion". Mr Redshaw investigated, saw a man in the blazing house and went in to get him out. "His hair was burning so I snuffed that out, got him outside and rolled him in the grass to extinguish his clothing which was also on fire". The patient was taken to hospital by ambulance. Fire-fighters soon got the better of the flames but not before they severely damaged front rooms.
Accident: Piha Road Closed, Power Cut
31 October 2009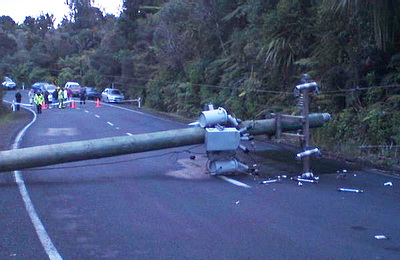 It was neither Trick nor Treat for Piha residents wanting to return home on Halloween Night - it was just plain bad news. Auckland Fire Police assisted Waiatarua counterparts to close the only road in and out of the West Coast beach community for nearly five hours following a road accident in which a car left the road, took out a power pole and all but disappeared over the side into bush. Although 4 occupants weren't badly injured, the pole fell across the road, live power lines still attached, and cooling oil from a pole-top regulator spilled on the road. Day trippers wanting to return to the city, and Piha residents going home, queued either side of the closure waiting for the road to re-open. Fire Police made special arrangements to get medication to two families and for a passenger en route to the airport to take an overseas flight. Power was cut to Piha and districts for several hours while linemen made repairs.
Members Qualified in Traffic Management
27 October 2009
Auckland Fire Police have recently studied for, and attained the New Zealand Transport Agency's Traffic Controller's qualification. 46 of the Unit's members have now completed and passed the course, all competent in the Code of Practice for Temporary Traffic Control. Managing traffic at the scene of emergencies is one of the most frequent tasks Auckland Fire Police are engaged in and their qualification is a useful benchmark measuring proficiency towards achieving industry best practice. Chief Fire Officer, Jim Smith, congratulating members, says the qualifications will give them advantage when the new Training and Progression System (TAPS) is introduced for Fire Police: traffic management is likely to be one of the core competencies required.
Long-Serving Member Farewelled
19 October 2009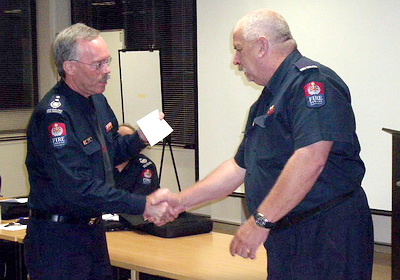 Members have farewelled FPC Grant Wilson who served the Unit, and his community, for 31 years having joined in May 1978 when Unit meetings were held at Balmoral Station. That first gathering was punctuated with protest and vigorous objection to NZFS plans that Fire Police would swap Chieftain fire helmets for Mitre10 construction-site hats. (The argument was later resolved in favour of the Auckland Unit and Fire Police everywhere.)
"There were only about 20 members then" Grant says "and Fire Police had just taken over care of the Bedford Canteen. Of fires I attended, undoubtedly the biggest and most dramatic was Vita Foam 1, Rosebank Road, where it was said that you could read your newspaper in Point Chev by the glow in the sky!" Other notable blazes were Vita Foam 2, Avondale College, Otara Rendell's Store and McCorkindales Hardware in New Lynn. Most traumatic call was an accident in Ponsonby Rd in the early 80's when 4 young people were killed after the car they were in became airborne over Newton Road/Great North Road intersection and hit a tree.
"My proudest moment was in 2004 receiving the coveted Gold Star for 25 years' service and the Unit's Life Honorary Membership". Fittingly, during tonight's Unit meeting - the last he will attend - Grant was presented with a third Bar for his Gold Star medal, signifying 31 years' service.
Clendon Shop Destroyed
6 October 2009
A children's clothing shop, Sunny Zone, was destroyed by this morning's fire in Clendon shopping centre, South Auckland. It was a second alarm. The blaze ripped through the corner shop consuming everything within the premises and threatened to spread to the next door 123 Dollar store. Fire fighters' timely arrival meant they knocked back the flames, confining the fire to Sunny Zone. Being school holidays, large numbers gathered to watch the action: members carried out crowd control and provided re-hydrating refreshments. A man was treated for smoke inhalation: he had tried to extinguish the fire in its early stages using a hose-reel before he was forced to evacuate.
Search for Missing 2 Year Old
6 October 2009
Members joined an overnight search for 2 year old, Asiling Symes, missing from her home in Henderson. 20 members volunteered, reporting to police who were coordinating the search, and were immediately assigned door-knocking duties in streets surrounding Longburn Road. Teams of 3 worked in wet, cold conditions and found some residents reluctant to leave their warm beds to answer the late-night callers, but searches were made of all gardens, garages and out-buildings. Operations were wound down in the early hours, but a large contingent resumed searching at first light.
Tricky Rescue: Two Injured
27 September 2009
Fire Police assisted at the scene of a two-car accident tonight in Tristram Avenue, Wairau Valley, near the motorway interchange where 2 people were being extricated from the wreckage of one of the vehicles, a sports car. It ran up and over an embankment, plummeting down the other side to the bed of the Wairau Creek. Fortunately the wrecked car containing the two people stopped just short of the water. Members closed Croftfield Lane and the northbound access to the motorway for a time until the patients were taken to hospital and the car recovered.
Veteran Fire Policeman Retires
22 September 2009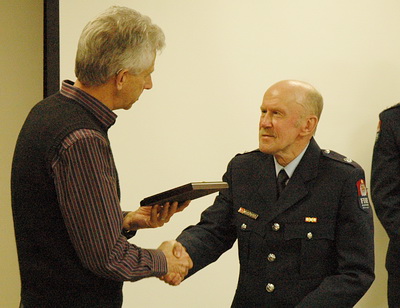 Today is Station Officer Alan Baldick's last day in the Unit having served 36 years. About 12 months ago Alan gave notice that he'd like to retire, ending not just his long association with the Unit, but his position as Secretary which he had held for 30 years. Alan was also for many years Officer in Charge of the mobile canteen, over the decades overseeing the old Bedford, the Ford and now the Iveco. At the Unit's Annual General Meeting last night many tributes were paid to Alan's long service, meticulous attention to detail in all things and his cheerful personality. He was presented with his final two year Gold Bar, a suitably-engraved Fire Service plaque and other gifts. Alan says he will keep up his interest in the Unit through his Life Honorary Membership. For the record, Alan joined on 17th December 1973 and left on 22 September 2009. He was Unit Secretary from mid-1975 until mid-1987 and from mid-1992 to 22 September 2009.
FPC Jackie Watson has been elected the new Unit Secretary; SO Duane Carnell has taken over supervision of the Canteen.
"Another Successful Year" ... Chief
21 September 2009
The Unit's Chief Fire Officer, giving his annual report, says it's been another very successful year with Members fulfilling, (and in many cases exceeding), the Unit's Annual Plan. Jim Smith, addressing the Unit's 76th Annual General Meeting tonight said the Unit was called out to 614 calls in the July-year and members responded to them all, no matter what time of the day or night. "We assisted brigades at a wide range of incidents across the region, from Wellsford in the North to Onewhero in the South, from Piha in the West to Mangitangi in the South-East". Chief Smith also reported that the Unit had more than fulfilled training and fire safety promotion targets, had successfully completed special projects and that the end-of-year financial report was very satisfactory.
Fallen Fire-fighters Remembered
11 September 2009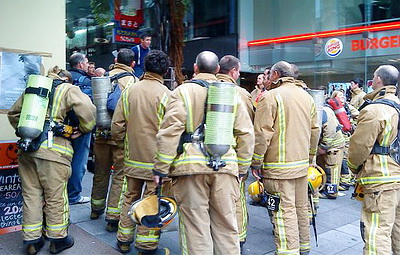 Members assisted at the inaugural Fire-fighters' Memorial Day held in Auckland to coincide with the 8th anniversary of New York's 9/11 tragedy. Fire services personnel from as far away as Kamo (Whangarei) and Lower Hutt took part in a stair-climb in the high-rise BNZ building to mark the event. But before the climb, the Roll of Honour was called, the names of New Zealand brigadesmen who have died during fire-fighting operations. Prayers led by the Dean of Auckland, the Very Reverend Ross Bay who is also a Station Officer in our Unit. Participants, some carrying breathing apparatus, hose-lines or other equipment, then set off up the stairs to the 32nd floor, some 106 meters above street level. Organisers hope to make the memorial and annual event, marked in one way or another, to remember fallen fellow fire-fighters.
Unusual Structure Fire
10 September 2009
Members responded to an unusual structure fire this evening, a third alarm alert to a big tent on fire at Mount Smart Stadium. The 15,000 seat "Super Top" is used for pop concerts, and other entertainment, and has in the past hosted the likes of Bon Jovi, UB40 and Foo Fighters. But it was fire-fighters who starred tonight, quickly extinguishing a blaze in the under-stage area preventing it spreading to the giant PVC structure. Fire Police helped seal off roads in the vicinity and assisted with usual fireground duties. Fortunately, no live show was scheduled this evening.
Footnote: 168 died, more than 700 injured, when a circus big-top caught fire in Hartford, Connecticut, during the afternoon performance, 6th July 1944. Originally a small blaze which quickly enveloped the tent, flames were fed by a flammable paraffin-petrol mixture which had been painted on the canvas to help make it waterproof. The flaming canvas fell on the audience, trapped because of blocked emergency exits. Although an unbalanced man was jailed for arson, including that of the circus tent, his involvement, the culpability of 5 others who were also jailed and the real cause, was never proven.
Nigel Hohaia: Prizewinner!
1 September 2009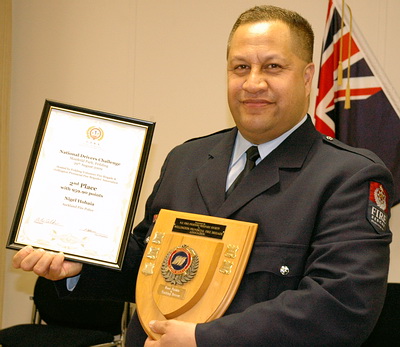 Auckland Fire Policeman Nigel Hohaia was runner-up, overall, at the weekend's National Drivers' Challenge at Manfeild. 48 Fire Service competitors from throughout New Zealand took part in the multi-discipline driving challenge, organised by the United Fire Brigades' Association. "I thought I had done well as the day wore on" says Nigel, "it seemed a better effort than last time, but I didn't get my hopes up, you can't tell until you've completed all the tasks. And then I had a long wait to see where I would be placed because I was the second to last competitor to compete in the final event. But when it was later announced I had come second in the Challenge, overall, it was a bit overwhelming." "The placing is the best achievement yet by any of our members competing in a nation-wide event" says Auckland Fire Police's Chief Fire Officer, Jim Smith "so it's a landmark reflecting the high standards our Unit aspires to ... and obviously reaches competing in the national arena. Congratulations, Nigel."
Week of Variety for Members
30 August 2009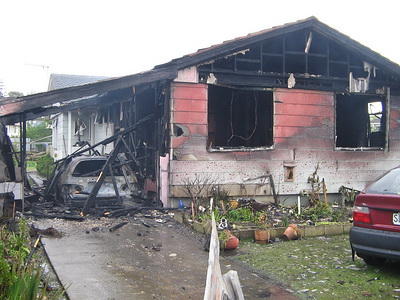 A serious house fire in Mangere this afternoon added to the wide variety of calls attended by the Unit this week. On Wednesday morning Fire Police responded to a kilometre-long diesel spillage along Great North Road in Glendene and then that night members helped at a fire on the 17th floor of an apartment block in Gore Street, City. Duties included looking after a man who fell down stairs during evacuation, injuring his shoulder. Members also closed downtown roads during the second-alarm fire which was dealt with during one of the most spectacular electrical storms Auckland has seen for some time. On Thursday night Fire Police closed Ayr Street, Parnell, after a road accident brought down a power pole and wires. Members carried out point duty for some 3 hours, assisting motorists through the busy evening commuter peak. On Saturday afternoon there was a call to a light aircraft crash near Drury and then a later response to a road accident, car over a bank, on Scenic Drive, Swanson. This afternoon's Mangere house fire destroyed front rooms and a car in an adjacent carport. And as well as these calls there have been other road accidents and fire calls to keep the Unit busy!
Long Duration Job in Mangere
18 August 2009
An early-morning blaze in a timber merchant's yard in Mangere East turned out to be a lengthy job for Members who responded to the Second Alarm alert. Stacks of timber were on fire within an enclosed yard some distance from the road, with fire showing up well as first firefighting crews arrived around 1am. Members assisted police to secure the scene, including road closures blocking off Savill Drive shopping areas. On the fireground Fire Police tasks included setting up lighting and providing refreshments - welcomed because all firefighters at the fire-front wore breathing apparatus in the thick, swirling smoke. At one stage it was so dense, and drifting towards Middlemore, that hospital authorities were advised as a precaution. Essential feeders (sole water supply for firefighting) across Savill Drive, meant members had to retain road closures for nearly 4 hours.
Two New Station Officers
29 July 2009
The Unit has 2 new Station Officers. Duane Carnell and Richard Cuthbert have been promoted to their new rank and were presented with insignia by Auckland Fire Police Chief, Jim Smith, at the Unit's monthly meeting. Congratulating the pair, Jim Smith said both Duane and Richard had submitted thoughtful applications and stood out during rigorous interviews. The Chief wished them well in their new positions, saying he looks forward to their future service in the Unit as officers, building on their hard work to date.
Long Job for Fire Police
3 July 2009
It was déjà-vu for Fire Police attending the long-duration fire high up in the Waitakere Ranges: they had been to a major blaze on the same property, Gordon's Nursery, some years before. That was also a third alarm and involved the same rambling collection of sheds and out-buildings, some used as living quarters, at the end of a long driveway. Unit members, assisted by their Titirangi counterparts, were at the scene, overnight, for more than 10hours, one of the longest jobs this year. The narrow, winding Scenic Drive was soon blocked by all the attending appliances so Fire Police closed it. Later, to assist morning commuter traffic, vehicles were managed over hose ramps. Fortunately Gordon's Nursery is within a reticulated area. This provided fire-fighters with water supplies to tackle the big blaze, yet ground monitors were still putting out stubborn pockets of fire some 9 hours after the fire fight had begun. Police, assisted by Fire Service personnel, are investigating the cause.
3rd Alarm Destroys Boats
21 June 2009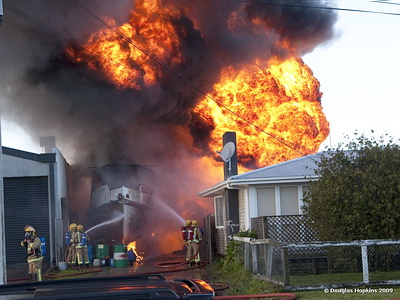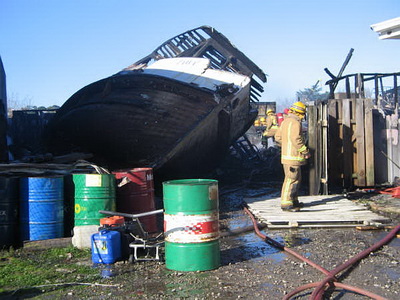 Members responding to a mid-morning fire in Henderson were in no doubt where to head for ... the large column of thick black smoke could be seen from the city. A boat repair yard was ablaze, destroying a shed and, alongside, various craft jacked up on stands awaiting service. The business also de-bugs boats' diesel tanks, so there was plenty of flammable material, chemicals and liquids to fuel the flames which resulted in 3rd Alarm response. Among the boats destroyed or damaged were yachts, launches and one of Auckland's smaller harbour ferries, the 90 year old Tawa II, which the boat yard's owner said he was restoring before passing it to public ownership. But the stands under the hull collapsed at one stage of the fire, tipping the hull on its side. The owner says the damage to Tawa II looks as if it's beyond repair.
Unit Marks Volunteer Awareness Week
17 June 2009
Members have celebrated their contribution to the community during this, Volunteer Awareness Week, with a social function held after the monthly meeting which was attended by New Zealand Fire Service executives to mark the event. CFO Brian Edwards thanked the Unit for its ongoing assistance at the numerous emergencies members attend. He welcomed public acknowledgment of the Unit's contribution in an article and photo that appeared in a local newspaper, coinciding with the special week when volunteers' efforts, everywhere, are recognised. So far, in the year ending at the end of the month, we have responded to more than 570 working calls with a "bulge" in the total hours contributed, reflecting the massive 652 person-hours our members put in during 3 days' fire-fighting operations last December at the multiple-alarm blaze in the former Southdown meat works. Read the article on stuff.co.nz here
Sandringham Chemical Incident
6 June 2009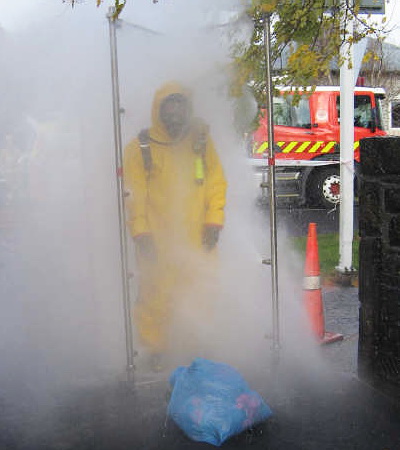 Members of the Unit sealed off a section of Grove Road and managed Sandringham Road traffic today after an explosion which left one man with burns. He was one of the contractors collecting roadside inorganic waste when a container discharged chemicals. He was taken to hospital by St John. The resulting hazardous material alert necessitated isolating the scene which meant a road closure and establishing decontamination measures. These activities, equivalent to Second Alarm response, spilled out on to busy Sandringham Road where members ensured traffic was managed safely around the scene. Police were determining how the substance came to be put out on the footpath for collection. While the Unit was assisting at this two and a half hour emergency, southern members responded to Whitford - Maraetai Road where a car had crashed into a pole bringing down power wires.
New St John Ambulance station
1 June 2009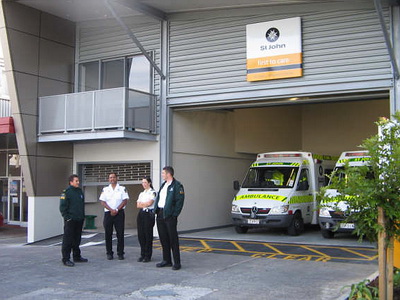 It's an "inside job" for Auckland Fire Police when it comes to St John's new ambulance station in Mt Roskill. One of our members, Dion Rosario, is Operations Team Leader overseeing staff and resources stationed in the new, Clinker Street, premises. St John has, to date, served the district working out of temporary, portable offices in the yard of the Mt Roskill Fire Station in Mt Albert Road, but with fire operations soon moving to a new station, St John decided it was time to find their own alternative headquarters. Their new Station 45 houses 2 ambulances, one crewed 24 hours, the other 9am - 9pm and has sleeping quarters, a lounge, kitchen and an enclosed staff car park. Clinker Street, in the semi-industrial area off Carr Road, gives ambulances good access both East and West when responding to emergencies via the new motorway extension, SH20, with connecting interchanges nearby.
New Mt Roskill station
29 May 2009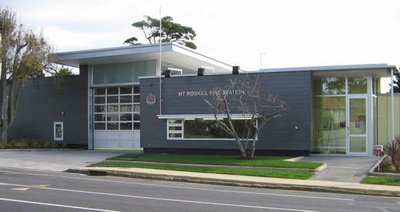 It's almost time for fire-fighters to make the move from their old station in Mt Albert Road to new premises in Dominion Road Extension. The single-bay station is in the shadow of the hill that gives the station - and suburb - its name, Mt Roskill, it's near the motorway access giving access to/from SH20 and is situated a couple of kilometres south-west of the old station that served the district for 80 years. Planning the new station's been underway for some time when it was realised that the old one was inadequate, and, lately, when its front doors were too small to allow access to modern, large fire appliances. The new station has already been given spiritual blessings and crews will occupy their new headquarters, all going well, within a week or two. There will be an official opening later.
Mt Roskill Fire Station Closes
27 May 2009
Mt Roskill Volunteers snapped soon after their station
opened, aboard their Dennis appliance. There's a glimpse
of the old church next door (and a camera-shy fireman!)
The Mt Roskill fire station today with 621 parked alongside
Auckland's Mt Roskill Fire Station's days are numbered: fire-fighters will soon be moving to their brand new headquarters. The present station, fronting Mt Albert Road, has served the district for 80 years, opened in 1929 soon after formation of the Mt Roskill Fire Board which set up a fire brigade with a paid Superintendent, 17 volunteer personnel and a new 1927 solid-tyred Dennis appliance. The brigade became part of the Auckland Metropolitan Fire Board in 1933: Auckland Fire Police have supported the duty crews ever since. A church next door to the station was removed in later years to extend the station yard on the Eastern boundary - just as well, because in recent times there've been difficulties housing larger, modern appliances in the old station and they've "lived" in, and responded from, the yard. It also provided space for temporary offices for St John which in recent years stationed an ambulance on site. Press clippings from 1928 illustrate the early times: "Fire destroyed the five bedroomed house near Richardson Road last night: there are no telephones in the area and for lack of this convenience, Mt Roskill Fire Brigade was not called" and "Mt Roskill Fire Brigade was called to the house on fire in White Swan Road but, despite making a fast run over very rough (unsealed!) roads, nothing could be done when they reached the scene - the dwelling was destroyed".
Finally, somewhat isolated in the outer suburbs as it was then, Mt Roskill Brigade was on its own in the late 1920's ... "The 3 storeyed block of wooden flats, some 16 rooms altogether, were totally involved and Mt Roskill firemen, who said it was the biggest fire yet in the District, had streams of water playing on the flames from hydrants in Selwyn Street some 600 feet (200 meters) away. Remuera and Parnell brigades answered the call but returned to their stations when they found the fire was not within their districts".
"Super City" Changes
23 May 2009
The new Auckland "Super City" will ultimately affect the Unit's activities, particularly where urban areas merge with rural, and beyond. The Minister of Internal Affairs says that among many other aspects of local government, there'll be big changes to rural fire administration. Dr Richard North told a meeting of representatives of Auckland fire brigades, including 3 who attended from the Unit, that the new City Council will be the sole rural fire authority across greater Auckland. And the Minister says it will be tasked with determining rural fire risks and planning rural fire-fighting responses for the whole of the new "Super City" once boundaries are decided. Auckland Fire Region Manager, Brian Butt, also foreshadowed change when he told the meeting that the Fire Service must keep abreast of decisions made as the new city evolves, ready to react to meet new or different community needs. "These important matters", he said, "have been added to the to-do list for the next 18 months or so".
Weekend of Death on the Roads
27 April 2009
Some of our members attended, probably without precedent, 3 separate fatal motor vehicle accidents over a weekend, "Anzac" weekend, a black period on New Zealand roads with 14 deaths between Friday afternoon and Monday morning. The 3 attended by our members were in Western districts, two were in rural areas at Waitakere Road, Taupaki (early hours of Saturday - Anzac Day) where a car hit a power pole and on State Highway 16 at Whenuapai (Sunday evening) where 3 cars collided. The third call was in urban Lynwood Rd, New Lynn where a car crashed into a roadside tree (Anzac Day evening). Members provided various services for some hours at all incidents, including road closures - in the case of the crash on busy State Highway 16, the road-blocks were maintained a couple of kilometres apart, at Brighams Creek Road and the Riverhead/Coatesville Highway. The Unit was also called to help with traffic control at another motor accident on Anzac Day, in Milford, where debris was spread almost a block along one of the North Shore's busy roads, Kitchener Road. And as usual on Anzac Day morning, members assisted at 8 events in Manukau City, providing traffic management for ceremonial marches and memorial services.
Unit's 500th Call for the Year
26 April 2009
A house fire at Massey in Auckland's western suburbs was the Unit's 500th call for the 'official' July-June year. The single storey house was well alight, prompting multiple 111 calls to the Fire Service just after 8am, Tuesday. Members responded and found busy Royal Road partially blocked by operations. A false centre line was established with cones and, using just half the road, Fire Police ran one lane of traffic in both directions. Fire-fighters contained fire damage to one end of the house.
Members Avert Motorway Crisis
21 April 2009
Two Members were a little late for last night's regular monthly meeting of the Unit, and though nothing was said at the time, the rather remarkable reasons for their lateness have surfaced today. Members Duane Carnell and Anthony McVeigh were travelling together to the meeting from Western suburbs when, as they crossed the motorway overbridge at Lincoln Road, Anthony spotted a man on the ledge outside the rails, crouching as if to jump into traffic travelling on the motorway lanes below. Fulton Hogan workers had also seen the man, but were pleased when help arrived in the form of the uniformed Duane and Anthony. Duane immediately went up to the man, found him obviously distressed and threatening to take his life and tried to calm him and persuade him into return to safety behind the barrier. Fortunately Duane recognised the man and it was helpful that he was able to communicate on first-name basis. The man was reluctant to move and several times made as if to launch himself off the ledge. Meanwhile Anthony used his mobile phone to call for emergency services and to keep a communication line open, describing to Police what was happening. An ambulance happened to be passing perchance: it was flagged down and the St John crew assisted Duane at the railing. With more talking and calming, the disturbed man's resolve to jump gradually weakened and he reluctantly agreed to climb back over the barrier and into the safety of the ambulance. Police arrived soon after and removed him to a safe house. The Unit's Acting Chief Fire Officer, Ross Bay, says "last night's actions are commendable - we are proud of our two Members who acted with presence of mind, as would be expected of trained personnel in Fire Service uniform, to help bring a very tense situation to a successful conclusion".
Fire Police get into Gardening
19 April 2009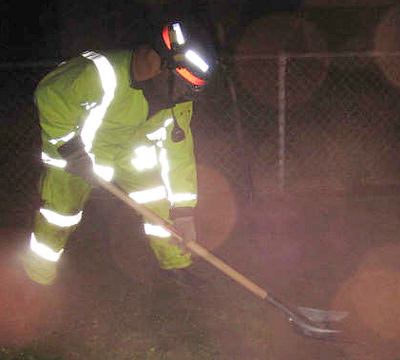 Members took on unusual duties - gardening - at a house fire in Mt Roskill tonight, trying to uncover the nearest fire hydrant which over the years had apparently become buried in the grass verge. Fire-fighters were forced to run a long feeder hose-line along Potter Avenue to an alternative hydrant when the nearest, right opposite the blazing house, could not be found. While yellow markings pointed to where the hydrant should have been, it could not be found even on close inspection. Fire Police at first probed the grass verge trying to strike the hydrant, but to no avail, so this was followed by the "gardening" ... the grass was dug up. But the resulting excavation failed to reveal a hydrant. It was left to the water company to sort things out - as well as the missing hydrant, the nearest one along the street was found to be unmarked, so there were anomalies. The fire severely damaged the house while the elderly woman occupant was taken to hospital suffering smoke inhalation and shock. It was the second serious property fire tonight: Members also attended a Second Alarm callout to a flat ablaze in Mt Eden.
Unit Busy Over Easter
13 April 2009
Easter was hardly a break for our Members who attended a number of incidents over the long weekend which were well spread out over the region we serve, and there was quite a variety as well. The busy holiday weekend began on Thursday evening with a 4th Alarm fire in a block of buildings at the foot of Khyber Pass Road, Newmarket near Broadway. A restaurant, a sex-aid shop and a beauty salon were involved, suffering fire, heat, smoke or water damage. Members put in numerous road closures which upset evening peak traffic in Newmarket, particularly buses which had to be re-routed. Other members provided scene protection and set up the Canteen. Later Thursday night Members assisted at a fatal motor accident in Otara. Then followed further vehicle crashes during the long weekend - one in South Auckland near Patumahoe, a 3-car incident on State Highway 16 at Massey and another accident on the Brookby Road. Then there was a blaze involving a huge pile of cars and other metal trash being processed at a Te Papapa recycling plant and a serious house fire in Penderford Place, Mangere. Early this morning Members responded to a 2nd Alarm fire in a block of shops in Dominion Road, Mt Eden which left one shop, and living accommodation above, seriously damaged. Later today a cross-arm on a power pole in Market Road, Epsom, gave way, dropping live power lines to about chest-height across the road. It appears borer, which had infested the timber, chose today to weaken the cross-arm to breaking point! Members put in traffic diversions until the power company made the scene safe.
Wellington's Surprise Presentation
28 March 2009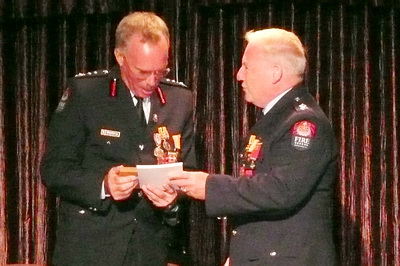 Not only was Wellington Fire Support Unit represented at the recent Triple Gold Star and Honours Evening, it presented a token of thanks, in the form of a plaque, to Auckland Fire Police. The Officer-In-Charge from Wellington, Senior Station Officer Brian Arons, surprised most of the 170 assembled guests when he rose to speak. After saying how pleased he was to be invited to the event, he asked Chief Fire Officer Jim Smith to accept the plaque on behalf of the Auckland Fire Police, which, Brian said, was due recognition for the lead and advice they give other Units, such as the work put in towards the recent inauguration of TAPS for Fire Police and Operational Support. He noted that when Auckland Fire Police Corps was formed in 1933, its rules were based on those already well-established by their Wellington counterpart, founded in 1899. Jim Smith accepted the plaque with pleasure - "thank you, it's a nice surprise from the Wellington Fire Support team in this, the Unit's 75th year".
Inaugural Employer Awards
25 March 2009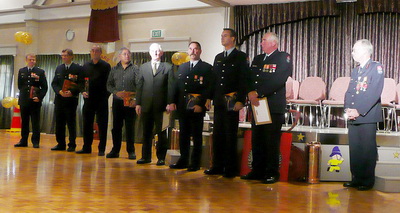 The Unit has presented its first-ever awards under the New Zealand Fire Service's Employer Recognition scheme. Framed certificates, and access to Fire Service branding were presented to members' employers, and self-employed members, who attend calls in what would normally be Company time. The ceremony, held in conjunction with the Honours Night, was arranged as part of the Unit's 75th Anniversary celebrations. The Fire Service thanked the employers for their community spirit in allowing volunteer fire police to provide their services when required during company time, and also acknowledged the considerable contribution made by those members who are self-employed and are put aside work so they can respond to calls, often at personal expense. 5 organisations, Laidlaw College, NRC Systems, Telecom, TVNZ and Vehicle Testing New Zealand received employer recognition, along with 4 self employed members, Chelsea Training, Glenn Teal Consulting, Kitchenworx and Trademark Pictures.
(Further details of the Scheme are available here)
Members Honoured at Awards Ceremony
21 March 2009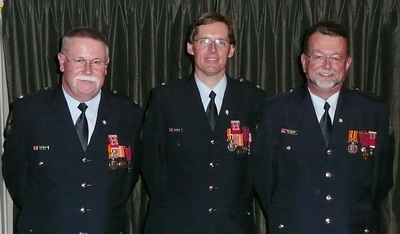 The Unit gained 3 more Gold Star holders at a presentation tonight to Station Officers Allan Officer and Lance Wright and Fire Police Constable Kevin Stillwell, each having completed 25 years' service. The rare triple Gold Star ceremony coincided, fittingly, with the Unit's 75th anniversary. Both Allan and Lance have served all 25 years in the Unit while Kevin has been a member of various Volunteer Brigades from Kawakawa in the North to Nightcaps in Southland. Other service honours were also presented at the function tonight which brings total service clocked up by the present membership to more than 800 person-years.
New Web Pages Mark 75 Years
16 March 2009
"Yellow Pages" are being added to the Unit's website to help celebrate the Unit's 75 years' service. "There have been other activities during the year to mark our 75th anniversary" says Chief Fire Officer, Jim Smith, "so it's fitting we have a new section added to the web pages". Designed by web-master FPC Mark Potter, the 75th 'supplement' has yellow livery to separate it from the regular sections of the site, and is an assortment or recollections, historic events of 1933 (our founding year) and tells of the functions held to celebrate three quarters of a century of service to Auckland. "We hope this adds to the interest of our website", says Jim, "and is a reminder of our history, and how we celebrated our milestone".

Unit Attends Fire Brigades' Conference
10 March 2009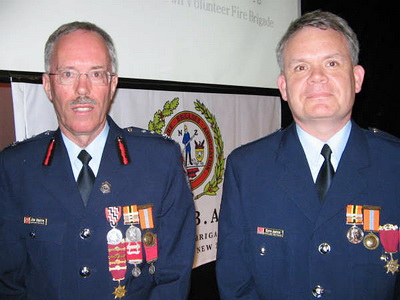 Auckland Fire Police are represented at the annual United Fire Brigades' Association Conference, this year held in Queenstown after the biennial Waterway Challenge. Main topics have been the Association's recovery after financial difficulties, the implementation of policies covering all the organisation's processes and proposals to change the rules which govern the organisation. New Zealand Fire Service executives addressed Conference on a range which included fire-fighting topics, the Fire Service fleet, innovations such as TAPS for Fire Police and also the introduction of further safety procedures and additional equipment arising from the fatal cool-store fire last year at Tamahere. The Unit's delegate and observer were in the Conference assembly, some 250 fire service personnel (mostly volunteer) from throughout New Zealand, who stood in silence as a mark of respect to Senior Fire Fighter Andrew Scotland of Waipu Volunteer Brigade who was killed today near the Remarkable Range, Queenstown, while participating in a recreation hang-gliding flight. Andrew had competed in the Waterway Challenge earlier in the week.
TAPS kicks off
21 February 2009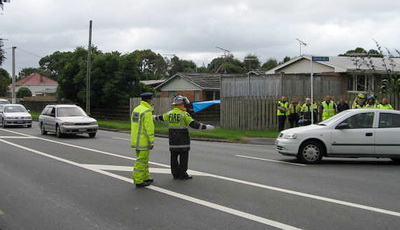 Three members of the Unit were among those attending the inaugural formal course for TAPS (Training and Progression System) for Fire Police and Operational Support personnel which began today at the NZFS Mt Wellington Training Centre in Auckland. The two-day pilot course follows the recent completion of a work study book with chapters outlining core Fire Police and Operational Support duties. 21 students attended, with representatives from as far South as Invercargill and ranging from smaller rural brigades such as Alexandra to city units like Wellington and Upper Hutt. Evaluation of the Pilot Course held this weekend will assist Fire Service National Training executives to determine the syllabus, competencies and qualifications for ongoing training.
Fire Police at Open Day
15 February 2009
The Unit's assisting with support services at a joint Emergency Services Open Day at North Harbour Stadium, Albany. Other local community organisations will be joining the Services in live displays, inter-active and other activities to enhance public awareness and where appropriate, reinforce the safety/prevention message. Unit members will provide a range of support services, such as security during helicopter operations, to help ensure the day runs smoothly.
Fire #3 in Mt Eden House
1 February 2009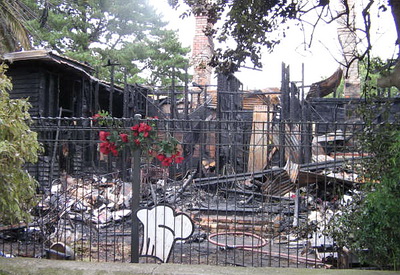 Today's early morning blaze at 14 George Street, Mt Eden, was the third major fire at the property, the second within a fortnight. And the flames are gradually succeeding in clearing the section ahead of City Council and other protracted legal action to get the work done. In 2004 the house was badly damaged in a mid-afternoon fire, the flames contained to the interior with a couple of outside walls burned. The fire-damaged building was allowed to remain, untouched, despite Council and other legal action to get it cleared up. Then, two weeks ago an early morning second-alarm blaze broke through the roof and took out the front rooms. Police investigated. Today's fire, also a second-alarm, gutted what remained of most of the interior, exposing chimneys. Fire Service investigators and police are again investigating the cause. Unit's members have assisted at all 3 fires: response, traffic management and cordons have become something of "set piece", definitely a case of deja vu!
Two Accidents on SH 16, Huapai
25 January 2009
Unit members assisted overnight at 2 serious motor accidents on SH 16 just north of Huapai, the second crash occurring at a road block on the approaches to the first. Two rescue tenders were responded to the first two-vehicle, head-on, accident after it was found there were multiple persons trapped. SH16 was blocked by rescue operations, wreckage - and later - by police investigating the crash. Several people had serious injuries. Roadblocks were set up at Trigg Road (southern side) and Foster Road (northern side). As members of the Serious Crash Unit were surveying the accident scene a loud crash was heard at the Trigg Road intersection. A ute had broken through the road block, skittled cones and ploughed into the side of the police car which had been maintaining the road block. Emergency workers rushed the 100 meters from the scene of the earlier crash to render first aid to the driver of the ute who was trapped and badly injured. The police constable at the road block wasn't hurt. Fire Police set up scene protection at this second accident, Kumeu volunteer fire-fighters responded to the "persons trapped" and the patient was soon cut out and transferred to hospital. Members of the police Serious Crash Unit, having wrapped up work at the first accident, later returned to Trigg Road intersection to begin their scene investigations and survey.
4th alarm winds down
7 January 2009
The 4th Alarm fire at the Penrose paper recycling plant is winding down with just a few crews remaining to watch for hot-spots. Meantime, scorched and charred bales of paper are being removed by forklifts from the processing plant so they can be inspected for fire and then re-stacked outside. Fire Police maintained support services until 2200hrs, by which time all specialist appliances had been withdrawn leaving standby crews, expected to continue overnight. Auckland's warm afternoon temperatures and physical exertion combined during the fire-fight to make it difficult for Fire Police to keep up with the demand for refreshments. One member was tasked with keeping all the drink stations around the fireground topped up, but the consumption of ice-cold drink made it a fulltime task, difficult to maintain. The same paper recycling plant had a previous serious fire 2 or 3 years ago, but that blaze involved bales stacked outside, whereas thousands of paper bales involved today were all stored within the processing premises. And today's fire is in the same street as the recent 6th Alarm fire in the old, disused Southdown meat works and cool-stores. A motorist, while crossing over hose ramps today, called out to a Fire Policeman "What, another fire? It must be time to build a fire station in Hugo Johnson Drive!".
4th alarm in Penrose
7 January 2009
Fire in paper bails inside a recycling plant has committed Auckland firefighters to a 4th alarm. The blaze is in thousands of bales of used paper stacked high in the 3 story plant. The fire is proving persistant despite numerous high and low pressure hose lines being played on the paper to try to douse the flames. Firefighters have open up the roof to get more water on the bales. Fire Police have closed Hugo Johnson Drive and are attending to numerous fireground duties.
Multiple-fatality Fire - Mangere
6 January 2009
Fire Police were among those from the emergency services who attended today's early-morning 2nd Alarm house fire in Mangere where 4 lives were lost and several other occupants seriously injured. The house in Nicola Place, a cul de sac of some 20 houses, was well ablaze when first fire-fighters arrived. They quickly confirmed "persons reported" when it was apparent not all occupants had made it out of the flaming house. Members at the scene assisted with traffic management, crowd control and fireground duties. Fire investigators have begun their inspection of the brick house, which although left standing, has been gutted inside. In terms of loss of life, today's fire is the most serious in Auckland for many years. In 1989 six elderly residents died in a fire at Terwindle Rest Home, Herne Bay.
Unit Busy Again in 2008
1 January 2009
The Unit attended 635 calls during 2008, maintaining its record as the busiest volunteer brigade in New Zealand. The Unit's members are turning out to an average of 50-55 calls each month. February (65) and November (61) were well above average while September (42) was not quite so busy. "When you consider each and every response by our members is to a confirmed working job, it can be appreciated the efforts that are being put in to support the Fire Service and the community" says Chief Fire Officer Jim Smith. "And of course the number of calls baldly stated in the statistics no way reflects the time being put in by our members. Some Fire Police tasks on the fireground are completed by 3 or 4 members within the hour, while initially every member of the Unit was turned out to assist at the recent 6th Alarm fire at Southdown Freezing Works. This was followed by members working in shifts over 72 hours to maintain support services while the main fire-fight continued. Fire Police put in a total of 652 person hours."