News - 2008
Unit Sends Condolences
28 December 2008
Auckland Fire Police join brigades and individuals up and down New Zealand who are sending condolences to all those who mourn for Hicks Bay Rural Fire Chief, Ray Barrett, killed yesterday afternoon on East Cape. Chief Fire Officer, Jim Smith, says "every member of our Unit will be mindful of this loss of life at Potaka, a volunteer who died while serving the community, responding to an incident. Ray Barrett was obviously a leader and a contributor in the local district and his death will be greatly felt. And at the same time as we send our sympathy to family, the Brigade and friends, we also trust that Ray's fire-fighter son, Tahi, who was injured in the accident will make a speedy and full recovery".
"That's a Wrap!"... Southdown
24 December 2008
Fire Police operations at the long-duration multiple-alarm Southdown blaze were not without anxious and lighter moments.

The anxious ones:
When, at the height of the blaze, it was discovered that at least one person had returned to an apartment within the complex to watch TV. The sports event on screen was apparently more important than the raging fire, until police and fire police tracked down the missing people and removed them from the scene.
When some occupants were allowed into the premises to salvage vital business records and then the rapid spread of fire was realised and, at a moment's notice, they had to be evacuated.
Until Great South Road was closed to all traffic, there was concern that poor visibility caused by the thick smoke might lead to accidents. The possibility of the smoke containing asbestos and other debris was also good reason to close not only the main road but also the railway line.
Mid-evening Saturday, Fire Police had to divert resources from the Southdown fireground to a major gas leak in Otahuhu, so we had 2 jobs on the go at once.
On the lighter side:
Police arrested a sightseer and looked around for a police car to transport their prisoner. Next thing he's being placed in one of our member's cars (a look-alike Holden!) and before the constable went off to chase away other sightseers, gave the instruction to our member "subdue him if he plays up because he's under arrest!"
And the member who, was in the middle of using the facilities in Fire Police 6 (the ablutions trailer), found himself totally in the dark when at that very moment the generator ran out of fuel and all the lights in the Trailer went out.
On the other had there was the church group who did see the light and, realising their premises were close to the "Hot Zone" and periodically covered by billowing smoke, re-located their pre-Christmas meetings.
The fact that some members have served for decades without seeing such a large fire, yet others with just a few months' membership in the Unit were all part of our operations - and are asking the question. Will they see another comparable blaze, 6th Alarm- plus, tackled by 7 aerial appliances, in their time with the Unit?
And the owner of a warehouse on the fringe of the fireground who, showing the spirit of the Season, left his premises open over the weekend so the Fire Service could have anytime - access to toilets, a power supply plus domestic water to replenish the Canteen. He put up with smoke wafting through the open door of his building so we could continue to gain access Monday and Tuesday, and to top this off, just before he left for Christmas holidays, he shared his company's end-of-year barbecue. Thanks, George.
Duties End at Massive Southdown Blaze
23 December 2008
Fire Police have stood down from the multiple-alarm fire in the old Southdown Freezing Works, almost exactly 72 hours since the initial turnout. Last members to leave the fireground departed in Fire Police 8, the canteen vehicle, around 1700 hours, there being no longer call for it with the reduced presence of fire-fighters at the scene. Looking down the list of duties Fire Police performed at Southdown is like scanning the index of the new training manual ... members were called on to carry out practically every task in the book, and then some! It's difficult to keep statistics of activities etc in the fast pace of an evolving 6th Alarm-plus operation, but here are a few from Fire Police:
Members put in a total of 652 person-hours
Almost every member of the Unit attended, some for 4 separate "shifts" within the 72 hours
Silverdale Fire Police responded, adding their support on Saturday night/Sunday morning
Fire Police worked with/from 9 Fire Service vehicles during operations
Countless hot and cold drinks were served
Hundreds of hot meals were prepared and served
It became a mission delivering refreshments and meals to fire-fighters in distant sectors within the fireground who could not leave their posts
Members transported hundreds of fire-fighters to and from their home stations when their appliances were "locked in", required for ongoing operations
Some intersections controlled by Fire Police at the height of the blaze were more than 3 kilometres from the fireground
"This event was the biggest fire of my 35 years in Fire Police," says Chief Fire Officer Jim Smith, "and as such, called on our Unit to contribute massively over the past three days and nights. Messages of thanks that have already been received from Fire Service Executives, and others who were assisted, indicate that we more than met expectations."
Persistent Blaze Evades Fire-fighters
22 December 2008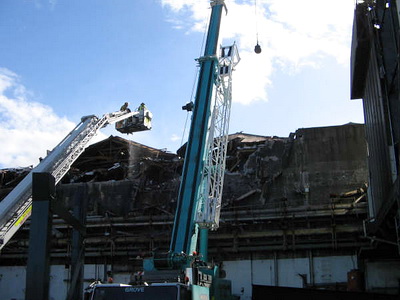 The massive multiple alarm fire in the derelict Southdown Freezing Works goes on and on. There's been a continuous fire-fight at the largely-abandoned buildings since Saturday evening, with multiple crews attacking the blaze from aerial and pumping appliances plus ground monitors. Some controlled demolition began today, smashing down parts of the old, rambling range of structures to enable fire-fighters to get water deep inside burning cool-stores and the former freezing works' processing areas. It's hoped this will speed attempts to douse remaining fires. Fire Police have continued their full range of tasks on and around the fireground, including a road block to exclude sightseers, command unit duties, security of premises, recovery of used equipment, crew transport and replenishment of stocks to enable members to keep the canteen operational at the scene, providing refreshments and meals. Fire Police will be on duty at Southdown right through the night, the third in a row, supporting fire-fighting operations. The outlook is for more of the same tomorrow at this historic, yet stubborn blaze.
Unit Busy at Southdown Multi-Alarm
21 December 2008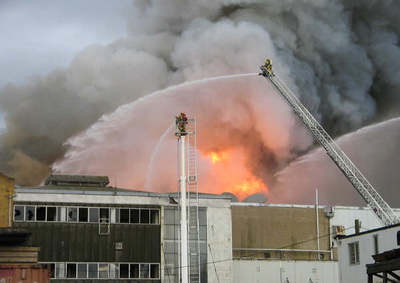 The Unit has been pressed to undertake all that's been asked of it since the old Southdown Freezing Works caught fire last evening. And no wonder. Veteran fire-fighters among those tackling the massive blaze said it was the biggest they had encountered, the most persistent and subsequently required the longest fire-fight. It also re-wrote the record books. It was a Sixth Alarm, plus (an innovation in Fire Service response in Auckland). 7 Aerial appliances were used at one stage (a number not seen in Auckland before, one from Hamilton), there was a record number of personnel and appliance movements for both the fireground and cover moves and kilometres of hose was laid to pipe in water from sources up to a kilometre from the fire. An asbestos alert meant full decontamination of all personnel who worked within the "Hot Zone".
Auckland Fire Police, supported by colleagues from Silverdale Volunteer Fire Brigade, have been carrying out their full range of duties and by tonight practically every member of the Unit, working shifts, will have been deployed at the fire. The fire was contained in the largely-disused and vandalised, rambling range of 3 storey buildings formerly the Southdown Freezing Works, including derelict cool stores, meat processing plants and offices. Ironically, over the years since the Works closed, the building has been used by both fire-fighters and fire police for training exercises. The premises are also quite well known because there have been two previous sizable fires in the premises. But the latest one, with so many superlatives goes down in Auckland fire services' history.
Santa's Helpers
14 December 2008
Today marks the end of the help the Unit gives every year to assist Santa's safe annual arrival in 8 communities across Auckland. Members put in hundreds of hours helping with traffic management, road closures and OSH duties at the various Santa parades from Howick in the East to Te Atatu in the West. This yearly activity hones members' traffic skills and often presents public relations situations: not everyone agrees roads should be closed to facilitate a safe entrance for the bewhiskered gent in red! The work also contributes to the Unit's funds. All went without incident, except in Papatotoe where a driver, returning from the liquor shop after buying a dozen beer, got stopped at a road closure. He decided to wait it out for the hour while the parade passed. Temptation took over. He consumed most of the beer and was incapable of driving. Police took him away for further testing!
Busy 24 Hours
8 December 2008
The early evening 4th Alarm blaze that destroyed Mitre 10's retail store in Onehunga was part of a busy day, and night, for the Unit. Most members turned out to assist at the 4th Alarm, either on the initial turnout or when relievers were requested later in the evening. The fire consumed the aging building which more or less occupied a block in the industrial area on Onehunga's foreshore. Some surrounding buildings were also damaged, factories evacuated and because the thick black smoke created visibility hazards, the nearby motorway was closed. Members were on duty at this call for 8 hours: others had put in similar hours from late morning at a gas leak in New Lynn which also caused evacuations, road closures and the cancellation of all train services on the commuter route. The Unit responded to an early evening 2nd Alarm fire on the 12th floor of an apartment building in the inner city and, in the morning, to a bus on fire in Meadowbank. Just to cap off these activities, the 4th Alarm forced postponement of the Unit's monthly meeting . with members fully occupied at the fire!
International Volunteer Day
5 December 2008
Members of the Unit join their volunteer counterparts, world-wide, to help celebrate 5 December, set aside by the United Nations as International Volunteer Day. The Secretary-General of the UN, Ban Ki-Moon, in his message to mark the day, gives the example of an elderly New Zealand woman who travelled to Liberia to volunteer in a peace-keeping mission. "People across the world contribute their knowledge and energy as volunteers" Ban Ki-Moon said, "and while the cultural form and definition of a volunteer may change depending on circumstances, the underlying principle never wavers . every individual can make a difference. The altruistic spirit of volunteerism is immense and renewable".
TAPS for Fire Police / Operations Support
4 December 2008
A Training and Progressive System (TAPS) similar to that for fire-fighters is about to be rolled out by the New Zealand Fire Service for Fire Police and Operations Support personnel. The Unit's Officers have been assisting the Service's Human Resources staff and consultants to design and compile a Manual which will be the centrepiece for TAPS, the first-ever comprehensive training document issued nationwide to Fire Police and Operations Support volunteers. The Manual lists typical duties and tasks that these personnel undertake, explains why proficiency in them is important, advises how best they are carried out and combines this with questionnaires and exercises for assessment, along with suggestions for follow-up study. Work on the document was all but completed today . TAPS for Fire Police and Operations Support is expected to roll out next year, trialled at a number of selected brigades.
4 Calls in Pre-Breakfast Action
14 November 2008
Fire Police began their busiest morning in years at a house fire in Ranui. The unoccupied dwelling was well alight and despite a spirited fire-fight the place was seriously damaged. Before Fire Police were finished at this call, there was another alert to a factory on fire in Bruce McLaren Road, Henderson. This quickly escalated to a third alarm, the fire fed by oils and foodstuffs in the premises which were used for processing Indian and Asian foods. Before fire-fighters got the upper hand of this blaze we were paged to assist with scene protection at a nearby motor vehicle accident, car versus pole with power lines down, so some members were diverted from the factory fire to help. Then, just as Fire Police were wrapping up tasks in the West, there was a call to a kitchen fire in a house at Clover Park in southern suburbs. The blaze quickly spread, the house was badly damaged throughout. This string of calls meant that this morning several members achieved the rare "hat-trick", attendance at 3 calls, responding to each immediately following the other.
Our Website is One Year Old
10 November 2008
Our first 12 months on the Internet have flown! We've come to think of it as the best fire brigade/department website. It has put our brigade "out there", given us a virtual home, provided members with a useful reference point for rosters and memos and has been instrumental in recruiting our keenest new members. It's also where we record our Brigade's service to the community, where we chronicle our proud history and where we list the achievements of our people. So, what happened during the year? Well, we have attended 637 incidents (including a 5th Alarm or 2), we celebrated our 75th Anniversary (and we still are!), we appointed our first-ever Patron (David Neil), we appointed our first ever honorary member (Stu Kearns), we attained 3 more Gold Star holders (SOs Ashton, Carlyon and England), we progressively upgraded comms systems and radios and one of our members joined counterparts in the USA for their 75th celebrations. And we launched our website! Happy first birthday to http://www.aucklandfirepolice.org.nz. (How on earth do we get all that in when we sing "Happy Birthday!"?)
Former Fire Station In Flames
1 October 2008
Members arriving at a 2nd Alarm fire in Kingsland late tonight found the former Mt Albert Fire Station well alight. Closed after 50 years' service in 1974 and replaced by Balmoral Station, the old concrete building was converted to a boarding house. Originally a "persons reported" call, all sixteen male residents made good their escape from the flames, losing all their personal possessions. Members closed New North Road to all traffic, assisted at the Command Point and prepared refreshments for emergency workers and the evacuees.Police transported the homeless men to alternative Backpacker accommodation in the city.
New Role for Unit's Chief Makes History
27 September 2008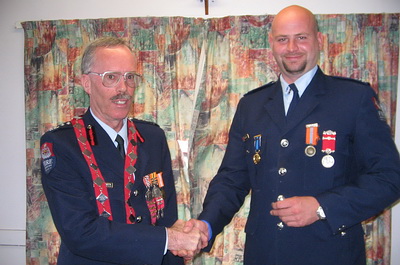 Chief Fire Officer, Jim Smith, has a new position in fire brigade circles. At the Annual General Meeting of the Auckland Districts Fire Brigades' Sub-Association, Jim was installed as President for the ensuing year. Handed the Chain of Office by outgoing President, Senior Fire-fighter Tony Sanford, Jim says he looks forward to fostering renewed interest in the Association, which has as its members fire brigades from Wellsford to Mercer with a few additional outside these boundaries who join so they're eligible to compete in Waterway and other Challenges arranged by the Association.
The appointment makes history for the Unit this year, appropriately as it celebrates 75 years. Leading roles in fire brigade organisations are taken by Fire Police, all members of the Unit. Jim is President of the Auckland Districts Fire Brigades' Association, Russell Allen is President of the Auckland Provincial Fire Brigades' Association and Ric Carlyon continues as member of the Board of Governors of the United Fire Brigades' Association.
Unit Now has a Patron
17 September 2008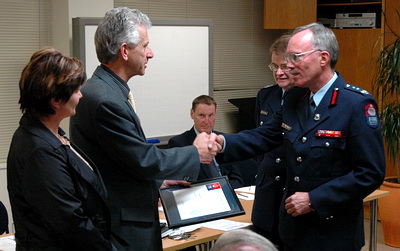 The Unit has a Patron for the first time in its 75 year history. The announcement was made by Chief Fire Officer Jim Smith at the Unit's 75th Annual General Meeting when he declared that Mr David Neil had been voted unanimously to the position. "It's entirely appropriate to take this initiative in our 75th year" said Jim Smith, "especially when we found a very suitable nominee who knows our Unit and its members very well, who has been a firm supporter of the Unit over many years and has mana both within and outside the New Zealand Fire Service". David Neil recently retired from the Service where he was a senior executive officer. Members of the Unit had also agreed, again unanimously, that the new Patron be made an Honorary Member of the Brigade and Jim Smith presented David with the appropriate badge.
75th Annual General Meeting
15 September 2008
The Unit celebrated with good cause during and after its 75th Annual General Meeting held at Regional Headquarters. Among the special guests were Life Honorary and past members who helped mark the Unit's important milestone. Visitors included a connection with the formation of the Unit in 1933 - Mrs Kaye Solly. It was her grandfather, Superintendent Bill Wilson, who decided to establish Fire Police in Auckland and organised their inaugural meeting in June 1933. And then Kaye's father, Lloyd Wilson, later fostered the Unit in his time as Auckland's Chief Fire Officer. Executives of the New Zealand Fire Service also attended the 75th AGM. The Unit received a birthday gift, a handsome plaque, from Fire Police in Montgomery County, Pennsylvania who also celebrate their 75th anniversary this year. The minutes of the Unit's founding meeting in 1933 were read and our newest member, Karl Berghan, took the Oath during which all members were asked to reflect on the undertaking they had sworn when they joined. The AGM ended with a supper complete with a 75th birthday cake. Click here to see photos
Feline Follow Up
4 September 2008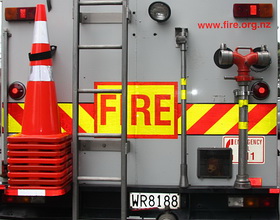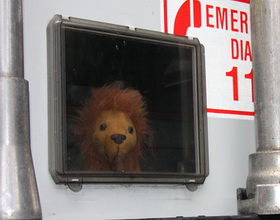 Following the near catastrophe of Duane Carnell's pet cat, Whisky, (see story below), the Unit now catalogues another feline item. The catalyst was a change of vehicles - the former Fire Police 3 (Whisky's favourite place to catnap) was catapulted to another brigade and Fire Police inherited a similar Mitsubishi, the new Fire Police 3. Remarkably, it comes with its own catflap built in to the rear locker between the standpipe and key (picture 1).

Whisky must think he's in Fire Cat Heaven with his own door, and a see-through one at that! Only there's a catch - it's not really a cat door. The Brigade that formerly had the Mitsi added the hatch to allow access for cables from the generator stowed in the rear locker. Duane has categorically banned his cat from the vehicle, but not to be outdone another feline has taken over from Whisky. This time it's a big cat, strategically positioned so it looks out, grinning like a Cheshire at everyone following Fire Police 3. And they smile back! (picture 2).
Whisky Found on Fire Police Appliance
30 August 2008
Despite all rules and regulations, one of the Unit's vehicles has been carrying Whisky, the duty driver unaware of his illicit cargo. Member Duane Carnell returned Fire Police 3 to Balmoral Station recently and something told him to check over the vehicle very carefully before relinquishing it. He then made the chance discovery in a rear locker. Whisky, his appropriately named black and white cat and known for its curiosity, must have wandered into the locker while Duane had the doors open doing his routine checks. Now discovered, Whisky was pleased to see daylight again after its entrapment ... and its ride across Auckland ... while Duane was equally grateful that the cat was out of the bag, enabling him to return Puss home, none the worse for its adventure. On this occasion perhaps one of its 9 lives was used: curiosity did not kill this cat!
Unit Represented at Expo in U.S.
18 August 2008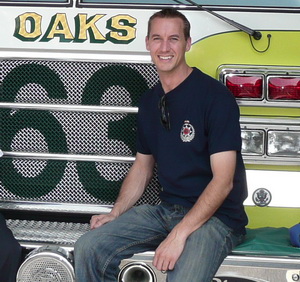 One of our members, Mark Potter, has just returned from attending the Montgomery County Fire Police Expo near Philadelphia. Mark was invited to speak about the Auckland Fire Police at the event and how Fire Police are utilised in New Zealand. Mark also visited several fire stations in the Montgomery County area during his 3 day stay, taking the opportunity to talk with many of their Fire Police members.
"It was a great opportunity to meet volunteer counterparts in the Montgomery County area to share our experiences" says Mark who found the Fire Police Association and its members "incredibly hospitable, making me feel very welcome". The Auckland Fire Police Unit and Montgomery County Fire Police Association, although half a world apart, struck up a friendship after they found that this year they both celebrate 75 years of service. Click here to see photos
Many Duties to Beat Storm Effects
27 July 2008
Most members of the Unit were busily engaged for 24 hours when an Adverse Weather Event, gale-force-plus winds and torrential downpours, swept the North of the North Island passing across Auckland. In addition to normally rostered response vehicles, Fire Police crews manned additional vans which were strategically stationed at Warkworth, Henderson and Beachlands Stations ready to assist.
Meanwhile, the Regional Emergency Operating Centre had been activated and Fire Police put their communications training to good effect manning radios, and arranging contact between key stakeholders. This team was also tasked to call back some of the hundreds of 111 callers as the storm abated to ascertain that the emergency they had called in still warranted the attendance of the Fire Service. These calls were then prioritised (flooding, trees blown over, roofs lifting, power wires down) and passed to FireComm for appropriate follow-up action. Members also helped keep a Weather Watch, gathering data to track the storm as its destructive path crossed the Region. Members also responded to numerous storm-related incidents in the 24 hours to 2200hrs Saturday. The Met Service forecasts a simular storm brewing, due in a few days
75th Anniversary Celebrations Begin
21 June 2008
The Unit has begun a series of year-long celebrations to mark its 75th birthday. The first function, tonight, is held on the eve of the exact date in 1933 when 12 founding members gathered to form the Auckland Volunteer Fire Police Corps under the patronage of the then Chief Fire Officer (Superintendent) Bill Wilson. The Unit's 75 years' service to Auckland will also be celebrated in other events over the next 12 months, notable among them the 75th Annual General Meeting in September.
Waitemata Police Honour Unit
16 June 2008
Members of the New Zealand Police Serious Crash Unit (SCU) from Waitemata attended the Unit's regular monthy meeting to thank members for their ongoing support at the scenes of serious motor accidents. Sergeant Stuart Kearns and Constables Karl Bevan and Paul Hayward are members of the team which investigates serious crashes in districts to the West and North of Auckland. Sgt Kearns, himself an honorary member of the Unit, told the meeting that there's a tremendous level of professionalism among members and that their presence at the scenes of accidents is greatly appreciated. Fire Police regularly assist the SCU at road closures and traffic management - "it's always a comfort to know we can carry out our investigations out on the highways or in suburban streets in a tightly controlled situation without having to worry about our safety" says Stuart, "and Fire Police very ably carry out those duties". He presented a plaque to tangibly thank the Unit. Chief Fire Officer Jim Smith said he received it on behalf of all members and that he considers helping the SCU is part of the Unit's mission to assist the community wherever Fire Police skills can be usefully deployed.
Unit Prepares to Celebrate 75 Years
12 June 2008
Auckland Fire Police are going to make the most of attaining 75 years, with celebrations planned throughout the year to celebrate. The first event on June 21st will mark, almost exactly, the anniversary of the founding meeting in 1933 of the Auckland Fire Police Corps when 12 members were enrolled and sworn in. The June function is for members, honorary life members and their partners but in September there will be an opportunity for wider attendance at the Unit's 75th Annual General Meeting, with further celebrations. Other events are scheduled, the Unit's compiling a special '75 Years' section on its website and there'll be a Unit photograph to capture the membership in the Unit's special year.
Long Duration Task - Waitakere Ranges
2 June 2008
Members assisted police during a task that took nearly 24 hours to recover a car which plunged off Scenic Drive, crashed through bush and came to rest against trees, well out of sight, about 70 meters below the road. The driver, seriously hurt in the crash, was relatively easily rescued but the salvage of the car proved difficult in thickly-bushed steep country. Police wanted the vehicle as part of their investigation into the accident. Fire Police closed a large section of Scenic Drive while salvage operations continued, first yesterday afternoon and well into the night until conditions were deemed unsafe. Our members returned this morning along with police, fire fighters and salvage experts, the plan to hoist the car back up to the road. This proved impracticable, Scenic Drive was reopened and the crashed car was winched down the hill through the bush to a nearby resident's driveway, loaded on to a tow truck and removed.
Fire Police at Provincial Conference
24 May 2008
The Unit's delegates attending the Auckland Provincial Fire Brigades' Association Annual Meeting heard updates on various activities affecting the Service. The meeting, held in Cambridge, Waikato this year, brings together representatives of volunteer fire brigades between Northland and Turangi. Among the topics discussed were the local waterway challenges (the national title of which is open to competition from all brigades in New Zealand), design of latest fire appliances including specifications for new water tankers, a proposal to review the look of our formal uniform and recent changes in administration at the United Fire Brigades' Association headquarters. Hamilton Fire Chief, Roy Breeze, gave an update and rundown on the Tamihere cool store fire. Earlier in the meeting members had stood in silence to honour SSO Derek Lovell who died of injuries suffered at the scene. FPC Russell Allen, a member of our Unit, was installed as President of the Provincial Association for the ensuing year.
Helping the Community
10 May 2008
Members assisted at two big Auckland events today, one a fire service related challenge, the other based out on the Auckland Harbour. In downtown Auckland, members were assisting at the Firefighters' Sky Tower Vertical Challenge where 230 personnel, all in full protective clothing, some donned with breathing apparatus while others were donned and using their sets, took on the 47 flights of stairs to the top of the tower. Our members assisted with traffic management and security around the event.
Meanwhile down on the harbour, this year's Auckland heat of the Power Boat Championship had craft zooming along at up to 150 kph around a course in the inner harbour. Elaborate plans to deal with any emergency out on the water involve the use of helicopters, divers, medics, rescue boats, and patrol craft. Skills learned at Fire Police training means our members are ideally equipped to assist at Race Headquarters and on the waterfront, ready to help manage emergency response should it be required. Although there was plenty of action during the racing, the event passed without incident.
Anzac Day - Lest We Forget
25 April 2008
Anzac Day's one of the busiest days on the Unit's calendar as we assist the community at numerous commemorative services, mostly in South Auckland. "Members' training and expertise in traffic management means we are called on to help close roads and to ensure the safety of participants marching in street parades" says the Unit's acting Chief Fire Officer, Glenn Teal. "We assist at 7 different Anzac Day services, with crews on duty as early as 4am to help with Dawn Services and then later in the morning at various civic ceremonies".
Happy 50th, Greenhithe Volunteers
24 April 2008
The Unit will be represented at activities on Saturday 26th April marking Greenhithe Volunteer Fire Brigade's fiftieth anniversary. Like many brigades, it was formed after a large fire galvanised the community to action, with 9 enthusiastic locals banding together with minimal resources to protect their community from fire. The Brigade has thrived ever since. Our members will be present at Greenhithe's Open Day on Saturday and there's to be a celebratory dinner that night. Greenhithe's jubilee falls just a few months short of this Unit's seventy-fifth anniversary. Happy Birthday, Greenhithe!!!
Members Honour Firefighter
11 April 2008
12 of our members joined hundreds of fellow Fire Service personnel, representatives from other emergency services, family, friends and other mourners at Te Rapa racecourse today to attend the funeral service for Senior Station Officer Derek Lovell, who died of injuries received at last weekend's explosion and fire at Icepak coolstores, Tamahere. "Auckland Fire Police were there on the night it happened, supporting fire fighters during the massive blaze" said one member of the Unit, "so it was fitting we returned to Hamilton today to join all those who gathered to celebrate SSO Lovell's life".
Members of the fire crews who were badly injured in the fire also attended, participating in the service from their hospital beds which had been specially taken to the race-course. Auckland Fire Police representatives took their place in the Honour Guard, comprising many hundreds of uniformed Fire Service personnel from throughout the country, as well as representatives from overseas brigades, as Derek Lovell departed Te Rapa on his Last Call.
Auckland Unit assists at Waikato 5th Alarm
5 April 2008
The Unit responded more than a 100kms to support those tackling the tragic fire in Icepak's industrial coolstores at Tamahere on the outskirts of Hamilton. Members took the mobile canteen (Fire Police 8) and the ablutions trailer (Fire Police 6 towed by Fire Police 5), resources used on the fireground until local catering and facilities could be arranged and set up. "We provide support services based in Auckland", says Fire Police Chief Jim Smith, "but when there's a need, we are more than happy to cross boundaries to help at major events in neigbouring Regions". 5 members travelled to Tamahere, in the Waikato/Bay of Plenty Fire Region, to support crews who had responded to the 5th alarm call-out, as well as a fleet of water tankers summoned to the blazing coolstores located in a rural, non-reticulated area. "Members of our Unit join with the rest of the Fire Service "family" and the community in their sympathy to Senior Station Officer Derek Lovell's family and colleagues", says Jim Smith, "you are all in our thoughts, together with those fire-fighters who were injured".
Unit's Liaison Officer Retires
30 March 2008
Our Executive liaison officer, Assistant Regional Fire Commander David Neil, is retiring and a round of functions has begun to farewell and honour the veteran of 41 years in the Service. Fire Police, like all other volunteer brigades in the Auckland Region will greatly miss David's leadership, advocacy, and personal friendship, to say nothing of his dedication to furthering volunteerism in the Fire Service. Fire Police Chief, Jim Smith, says "David saw the value of positioning our Unit as a regional resource and has been unstinting in his support for us - a strong believer in the retention of Fire Police, in name, and in the continuing niche services we provide fire fighters, emergency services' workers and the wider community. This has enabed us to adapt and improve our operations to meet fireground needs throughout greater Auckland now, and in future years".
New Fire Service Held Up
24 March 2008
The Unit's delegates, and representatives of many other volunteer fire brigades from throughout New Zealand, have just returned from Nelson, and the United Fire Brigades' Association annual conference. Minister of Internal Affairs, Rick Barker, told delegates that the eagerly-awaited rewrite of Fire Service legislation is stalled because it's difficult to reach agreement about what should be done. "This is indeed unfortunate. I consulted widely because you need a consensus for change to make things work, but we are struggling to reach a consensus among all stakeholders: some views remain entrenched and the time's not right..." The Minister believes change is inevitable, he has not given up on improvements for all volunteers in the Service and finding ways to better support them. To this end, he says he's consulting Cabinet colleagues to try to progress matters.
Grant Enables Radio Upgrade
21 February 2008
The Unit has been given $7,000 by the Waitakere Licensing Trust enabling Fire Police communications equipment to be upgraded to state-of-the-art. Auckland Fire Police Unit operates its own radio channels so that members can communicate en route to calls and when they are at emergency incidents. To obtain clear reception right across our sprawling Region we must maintain 4 transmitters, linked, and the present equipment is ageing, having served us for more than 15 years, now overtaken by advances in technology. The replacement project is well under way . 2 transmitters were ordered some time ago and are now ready to install.
The Trust's grant means the other 2 transmitters can now be purchased. The Unit's Chief Fire Officer, Jim Smith, says he's grateful for the Trust's generosity - "a good radio system is essential and this grant will ensure that our members, and the communities we serve and support, benefit from efficient communications in West Auckland and beyond . in fact, from Warkworth to Meremere, coast to coast.
A session with the Uniform People
20 February 2008
The Unit's monthly meeting was joined by experts in uniform and PPE. CFO Keith Whale from New Zealand Fire Service HQ and 2 representatives from Yakka Apparel Solutions Ltd held a discussion looking for ideas as they try for the perfect outfitting of Fire Police/Operations Support. Mr Whale said that from his point of view the apparel needs to be safe, durable, comfortable, stylish, affordable and not too dissimilar in appearance to fire-fighter's protective clothing . a corporate look/branding which might be shared by others who do not need full firefighters' protection.
Members saw the need for a light breathing textile, like the yellow jacket recently trialled, together with a shaped flap on the radio pocket to cater for the aerial, a pocket for a pager, a removable summer/winter liner, and the hood retained. Some members thought the present high-visibility lime over-trousers are preferable to the proposed alternative, dark blue. The compromise might be to add reflectorised stripes to the dark blue to give better protection at night. Members suggested some other apparel or styles that were beyond the budget - the balancing act is to maintain safety, retain comfort and not break the bank. Let's see how far we got when the next trial garments arrive!
Central Role at State Funeral
22 January 2008
Long-serving member of the Unit, Station Officer Ross Bay, led the Service during the State Funeral for Sir Edmund Hillary held today in St Mary's Church.
As the Very Reverend Ross Bay, he's Dean of Auckland, with oversight for the Holy Trinity Cathedral in which Sir Edmund lay in state before his funeral in the adjacent St Mary's. It was only in November that Unit members joined the congregation at Holy Trinity to witness his installation as Dean. Within weeks, before he had properly settled into his new position, Ross found himself central to family, government, security, police and church arrangements for Sir Edmund's State Funeral. The service was to be seen around the globe on television, it was front page of every local newspaper and it featured on all radio news bulletins, as New Zealand farewelled the famous mountaineer, adventurer, diplomat, benefactor and good Kiwi bloke. TVNZ's "Close Up" presenter Mark Sainsbury describes him as "the Dean of Auckland who leads a double life"!
Happy New Year !
1 January 2008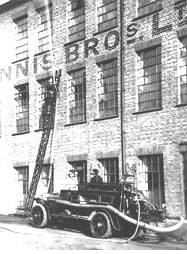 We welcome in the New Year with best wishes to all for a happy, healthful and prosperous 2008. Several important fire service-related events will be remembered during the year, some abroad, others local and one of them, our very own!
In England, 100 years ago, Bradford Fire Brigade ordered a new fire engine with a motor which was "not only for locomotion but also for pumping" from manufacturers whose patented worm-drive transmission was largely unproven. Dennis Brothers thus made their first fire engine. It was enthusiastically acclaimed, promoting the company to the forefront of fire engine makers: the Dennis name has endured to the modern era.
In America, the centenary will recall the tragic fire in Rhoads Opera House, Boyertown, Pennsylvania, when 170 people perished, trapped inside the blazing building. Far-reaching fire safety rules for public buildings were introduced as a direct result of this 1908 tragedy, first made federal law in the United States: its principles later adopted by many other countries.
Here in New Zealand, it's a century since legislators were successful with their 3rd attempt in as many years at a consolidated Fire Brigades Act. The 1908 version was the foundation for much of the law (revised several times in the interim) under which fire services in this country presently operate. Maybe we will celebrate the centenary with the introduction of the much-discussed major overhaul of our fire legislation?
Closer to home, we'll be celebrating 2008 as a milestone year for Auckland Fire Police, marking 75 years' continuous service to our community. June 22nd 1933 was the actual date when our Unit was formed and the first 12 constables sworn in. There'll be appropriate activities to commemorate this special anniversary.