News - 2007
Seasonal Call-out
24 December 2007
Late night turn-out: "Multiple calls to a light aircraft in distress"
Sit rep #1 - "From Officer Incredulous: Observing light aircraft flying North to South, sometimes at rooftop level, pilot probably disoriented. Investigating further"
Sit rep #2 - "From Officer Incredulous: Further sitrep . Unidentified open-type light aircraft, appears unable to gain height, showing single red light to the front. Advise Air Traffic Control".
Sit Rep #3 - "From Officer Scrooge: Be advised the same hoax callers got us out of our beds on a wild goose chase last Christmas Eve. No further action. K28 -1".
Sit Rep #4 - "From Officer Incredulous: Reporting white light from what looks like another aircraft at high altitude approaching from the East".
Stop Message - "From Officer Enlightenment: Stop for low-flying craft making multiple soft landings at roof top level and a bright star in Eastern skies. False alarm with good intent. Merry Christmas everyone!!!"
Well-timed Announcement
24 December 2007
Christmas came a little early for the Auckland Fire Police with advice from Regional Headquarters that the Fire Service Commission has issued our Unit with 14 new hand-held radios.
10 Motorola GP329s each with a selection of 16 channels, and 4 Tait radios will be allocated to members as soon as they're programmed to suit the Unit's needs. "This package, appropriately announced as Christmas approaches, is very welcome," says the Unit's Chief Fire Officer, Jim Smith, "particularly as some of our radios are fast reaching the end of their useful life. This package will ensure we can continue to issue each member with a reliable radio. Efficient communications between Fire Police, and others, are essential for personal safety on the incident ground and for routine messages among members via the Unit's own radio network, right across the Fire Region we serve".
Long Task Ahead
22 December 2007
Members have been called out a number of times in recent days to assist at operations following the escape Thursday of an estimated 10,000 litres from the underground tanks at a Glen Innes service station. It's a multi-agency event and is likely to continue for some time, continuing to disrupt the Glen Innes shopping centre.
Fire Police have been summoned several times to assist at the scene as various phases of the operation are undertaken. The latest turnouts were to help close several streets, including major traffic thoroughfares to all vehicles and pedestrians. This extended "no go area" is to minimise risk of explosion/fire while the station forecourt is excavated and test bores are drilled to find how far the petrol seeped once it escaped through a damaged underground pipe. In addition to the cordon, Members are also staffing the Fire Service's mobile canteen.
Long Duration Job
20 December 2007
This afternoon's call to a petrol spillage is likely to stretch into the night. Thousands of litres of petrol escaped from an underground tank at a Glen Innes service station and the fuel has seeped 200 metres to the Taniwha creek. Fire fighters, conservationists, drainage experts, and contractors are disposing of the fuel - operations which are expected to continue late into the night. Fire Police were involved in staffing roadblocks, maintaining cordons, and operating the Fire Service Canteen.
5th Alarm and 3 other calls ...
13 December 2007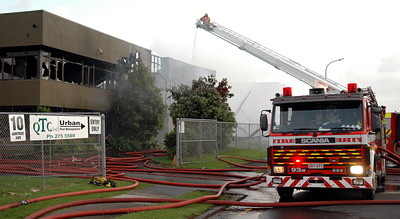 Four calls in the course of the evening (12th December) kept members busy, the action centred on a fifth-alarm blaze in a building used as a fumigation station in Mangere's industrial zone. The premises contained a wide range of chemicals, some toxic, used to treat imported goods to ensure MAF's bio-security requirements are met. Smoke from the building, and run off, carried a cocktail of chemicals which required a wide "no go" area, road closures, and down-wind evacuation of factories and houses. Members maintained the cordons, fetched and staffed the canteen, ablutions trailer and communications caravan and also carried out many other fireground duties, not the least keeping up a supply of BA cylinders during the height of the fire.
Mid-evening there was a call to a serious persons-trapped motor vehicle accident on the main access road to Auckland airport. Some members were sent from the fire to establish road closures at two of South Auckland's busiest intersections, Mangere's Kirkbride Rd and at the Airport's exit roundabout, while others attended to scene protection at the incident. The two car crash resulted in multiple fatalities. There were some interesting exchanges with motorists who found the road closed and that their only access to the airport was the much longer detour via Puhunui.
The third call was to assist with road closures at another motor vehicle accident in Titirangi and the fourth turnout was to a shed fire, believe it or not, also in Mangere!
International Volunteer Day
5 December 2007
Statistics released to coincide with December 5th, International Volunteer Day, reveal the extent of volunteerism in New Zealand's 97,000 not-for-profit organisations. More than a million New Zealanders, or 31 per cent of those over the age of 12 years, participate in some form of organised volunteer activity. They each put in an average of 5.1 hours every week. This all adds up to 270 million hours of unpaid work, the equal of one and quarter million full-time positions. And the final statistic - the time contributed by volunteers is valued, annually, at more than $3.3 billion. Members of the Unit acknowledge the thanks and congratulations conveyed by various local and international organisations on the occasion of International Volunteer Day and we extend our greetings to all other not-for-profit organisations, particularly volunteer fire brigades, everywhere.
Honorary Member
3 December 2007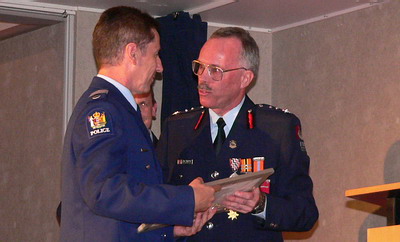 The Unit recently announced what's believed to be it's first-ever honorary member. Sergeant Stuart (Stu) Kearns of the New Zealand Police was presented with an Honorary Member's certificate at the Unit's annual Honours Evening. Chief Fire Officer Jim Smith told the gathering that Sgt Kearns had greatly assisted the Unit over many years and it's appropriate that he be thanked by way of honorary membership. Stu was a member of the Auckland Fire Police unit in the 1980's while a traffic officer with the Ministry of Transport, duties later taken over by police.
Dean of Auckland
19 November 2007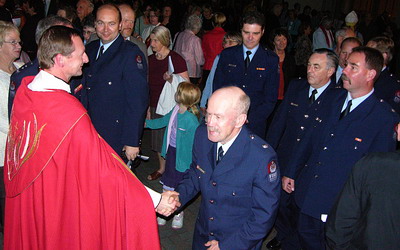 Members of the Unit joined the congregation, Monday 19th, for a special service at the Anglican Cathedral of the Holy Trinity, Parnell, to witness the installation of Station Officer (Fire Police), the Very Reverend, Ross Bay as the 8th Dean of Auckland and Vicar-General of the Diocese. Ross had been Vicar of St Mark's in Remuera until his appointment, and last year was made Archdeacon of Auckland.
Members of the Unit joined a capacity congregation of clergy and laity to see Ross installed as Dean and to wish him well in his new position. Ross has been a member of the Fire Police unit for 17 years.
Website Inaugurated
10 November 2007
Auckland Fire Police now have their own website. It was officially switched on by the newly appointed Mayor of Manukau City, Len Brown, during a ceremony as part of the Unit's Honours Night. "The site shows the work of the Unit on-screen with up-to-the-minute progress of the calls members are attending" Jim Smith says, and "there's also a wealth of information about the Unit, including a look at our history, acknowledgment of our founding pioneers and others who have shaped the Unit over the decades. The Unit's honours are proudly displayed in another section of the website".
"What makes this a particularly important milestone is the fact that all the talent to design, create and compile the website came from within the Unit", Chief Jim Smith continued, "FPC Mark Potter, webdesigner, and SO Ric Carlyon have done a great job, putting in many hours to craft a website which I believe sets a new standard for other Fire Brigades to emulate".
Triple Gold Star Evening
10 November 2007
The Unit now has 3 more Gold Star members after a presentation on Saturday 10th November. Station Officers Keith Ashton, Ric Carlyon and Chris England joined the list of 9 other serving members in the Unit who have attained the coveted Gold Star for 25 years' service.
The medals were presented by Past-President of the United Fire Brigades' Association, CFO Graeme Booth, followed by other presentations to the trio on behalf of the New Zealand Fire Service Commission and the Unit. Other members received UFBA Service Honours during the social evening.