Our History
Special Events
From time to time the Unit's been involved in long-term events which, one way or the other, involved practically all members in the Unit, whether they actively took part in activities or they back-filled rostered duties while others were engaged on special tasks.
Floods - Hauraki Plains, 1985
Very high rain fall . continuous downpour for 24 hours. in the Kaimai Ranges' catchment near the town of Te Aroha in February meant swollen rivers overflowed their banks and inundated the business area and surrounding residential district. Trees, pushed over by the torrents, became tonnes of debris in the waters of the out-of-control Waihou River which carried the timbers, mud, and boulders through the town. Surrounding areas across the Hauraki Plains were also affected, a state of emergency was declared and assistance was requested from Auckland. The canteen was stocked with food and essential items and dispatched with Fire Police to provide meals wherever required. It was stationed at Ngatea for a time where electricity was cut, before going on to Te Aroha. It was out of Auckland for 10 days.
Earthquake Response - Bay of Plenty, 1987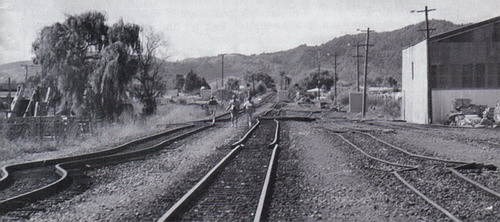 Scenes which greeted Auckland Fire Police personnel arriving in Bay of Plenty after the earthquake
On March 2nd, early afternoon, a 6.3 magnitude earthquake rocked the southern Bay of Plenty causing widespread damage to buildings, roads, railway lines and opening long chinks across farmland for kilometers. Built-up places like Edgecumbe, Whakatane and Kawerau felt the brunt of it. Whakatane Hospital was damaged, silos at the Edgecumbe dairy factory toppled and an 80 tonne railway locomotive was tipped on its side in the shake. The shake was pronounced in some areas: people had to make an effort in order to keep their feet on the ground for the duration, some lost their balance and fell over while others were forced downwards. Others were injured by falling debris. about 40 seriously hurt. Water and power supplies were disrupted. Civil Defence called for help and a Task Force was mustered in Auckland including Fire Police personnel to take the mobile canteen to Whakatane. It joined the procession of emergency vehicles and headed south. Once in the Bay of Plenty it was deployed for a week, at first cooking meals for rescuers and civil defence officials, later it was moved to Whakatane Hospital to help with meals for patients: the hospital's kitchen had been partially knocked out by the 'quake. Fire Police remained on the job for more than a week during which time essential services were restored in the affected areas and the canteen returned to Auckland.
A Night of It: 15-16 July 2003
Without a doubt, overnight 15-16th July 2003 was the busiest period the Unit had experienced in all its 70 years. The evening began quite lively... a motor accident or two, a call to domestic flooding in Avondale, a diesel spill at the Parnell truck-stop and a power pole on fire in Glenfield. Then at 2045 an alarm in downtown, city, unbeknown to those responding, was the start of a chain of events.

2045 car on fire, Mayoral Drive/Greys Avenue intersection
2137 K99 furniture, inside building at AUT, Lorne Street (8 Fire Police attended)
2207 structure fire: old Government House, University Complex (7 Fire Police attended)
2213 rubbish, Queen and Marmion Streets
2300 rubbish, Mills Lane/Queen Street
2300 rubbish, Mills Lane/Stamford Hotel
0016 structure fire, Telecom Building, Takapuna (6 Fire Police attended)
0020 rubbish. Mills Lane
0020 structure fires: 3 blazes in basement car park, Federal and Wolfe Streets (8 Fire Police attended)
0024 post box on fire, Wellesley and Lorne Streets
0033 structure fire: City Council building, Princes Street-Albert Park (16 Fire Police attended)
0126 persons reported; self-immolation (?), Aotea Square, City (K41-1)
0327 structure fire: Guardian Trust Building, Queen Street (19 Fire Police attended)
0340 rubbish, High St/Vulcan Lane
0432 rubbish, Emily Place/Customs Street

At 0330 Acting CFO, Glenn Teal, paged for all available Fire Police to respond to the Guardian fire, even those in their sick bed were asked to turnout.

The busy night threw up some unusual "cover moves" and some strange "first arrivals", Glen Eden's crew was at one stage standing by at East Coast Bays Station, North Shore appliances were on standby at various inner stations, the 2nd Alarm turnout to the Telecom Tower in Takapuna comprised totally of appliances crewed by volunteers and for the Guardian Trust fire the computerised dispatch system couldn't offer any trucks. Control-room operators had to pick some and mobilise them.

The Guardian building complex was under renovation/conversion. Consequently, the fire alarm and sprinkler systems were not connected, there was no lighting of any kind, there were holes in floors, towering scaffolding and piles of building materials. The two interconnecting multi-storey buildings had 6 fires set in them. Fortunately only 2 developed and were cut off before spreading up the stairwell, but not before one floor burnt through. Fortunately the renovations meant a significant reduction in fire-loading - there were no office furnishings or fittings to fuel the blaze. In the early stages of this callout the Fire Service separately responded to buildings on fire in Mills Lane (behind the Stamford Plaza Hotel) and fronting Queen Street. Early crews were unaware that they were actually tackling blazes in the same building complex, so Mills Lane was progressively escalated up to a 4th Alarm, while Queen Street went to a 3rd, probably unique: 2 greater alarms in the same building!
Fire Police were fully utilised on the night undertaking traffic control, scene protection, pedestrian control (falling glass etc), assisting with the Control Unit and BA recharging, Canteen Unit and salvage.

A few statistics:
# It all began for the Unit at 2144hrs Tuesday, ended at 0810hrs Wednesday
# 33 Members were involved in one or more of the incidents
# Some Members attended 5 calls on end, going one to the next
# At 2 incidents FP4, FP5 and 6118 were all in attendance and utilised
# A total of 170 hours was put in by all Members at all incidents.

The pager message the next day said it all -
"Overnight operations were extraordinary, the Unit's biggest night ever, involving almost every member. We did our job very well. Thanks everyone ACFO Glenn Teal. GLT/RCC"

A man later appeared in court on multiple charges of arson.
The death in Aotea Square, unconnected with other fires, was referred to the Coroner.

Major Fires - Southdown 2008 & 2010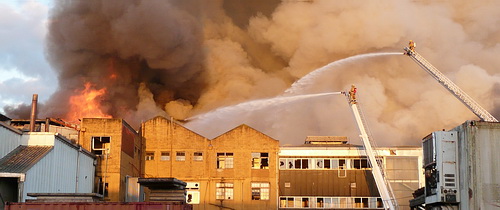 Southdown: Fire spreads through the range of buildings formerly used as meatworks
Southdown's a small area between Penrose, Te Papa and the Manukau Harbour in South Auckland. It gave its name to a giant meatworks where for decades cattle and sheep were slaughtered, the meat processed for sale at home and shipment abroad. The works closed down some years ago and the rambling buildings, some rising to three floors, languished - either occupied by a range of small businesses, or derelict. Fire-fighters had been called to a number of small fires in the various structures, then the big one.
December 20th 2008
The response quickly escalated to the equivalent of a 6th Alarm, something new in Auckland, and the flames enveloping the whole works were tackled by a record number of fire appliances and personnel. At one stage no fewer than 7 aerial appliances were at work, one fetched from Hamilton, deluging water on roofs, through openings and windows, as fire-fighters tried to drown the fire in former killing chains, cool-stores, offices, sheds and storage buildings. Unit members were involved right from the start, closing surrounding streets to enable access for responding appliances. Duties grew, and so did our numbers, until all available Fire Police were mustered and Silverdale Fire Police arrived to assist. By the time the fire was declared safe some 72 hours later members had put in more than 600 person-hours in 4 separate continuous around-the-clock shifts. This blaze rewrote the history books of Auckland fires: whichever statistic is considered it was by far the biggest response and longest fire-fight in living memory.
May 14th 2010
The old buildings of the former works remained, fire-damaged and derelict. Somehow they caught fire again in mid-May 2010 and once more the blaze quickly spread prompting a 5th Alarm fire. And once again Chief Fire Officer Glenn Teal asked all available Fire Police to respond. It was virtually a repeat of the earlier major fire so the Fire Service, familiar with the layout of the premises and the risks, hit it with appropriate resources, including 4 aerial appliances. And again twinned feeders were run out, taking water to the fire from more than a kilometre away. As before, Fire Police set up refreshment centres around the perimeter of the fireground and served dozens of meals from the Canteen. Decontamination measures were put in place because of the risk of asbestos and other chemicals. Fire Police stood down after 15 hours, but returned during daylight hours while fire-fighters again deluged the remains. Duties ended after 3 days when there were just a few hot-spots still to be dealt with.
Earthquake Response - Christchurch, 2011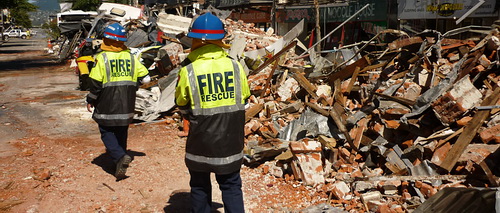 Earthquake: Fire Police survey devastation to buldings in Christchurch Central Business District
Rural Canterbury experienced a damaging earthquake in September 2010, but it was nothing compared to another in February 2011 which wrecked the central business area, damaged most structures in Eastern suburbs and left 181 dead. A National Emergency was declared and the Fire Service, mobilising resources from throughout the land, included the Fire Police Canteen and Ablutions Trailer. Members drove the vehicles to Christchurch, setting up the Canteen at Christchurch Central Fire Station (which had been left disabled by the 'quake) and the Ablutions Trailer at Central Police Station (left without any toilet facilities). Fire Police staffed both vehicles for 20 days. 6 rotations of crews of 3 flew in from Auckland, including 2 members of Silverdale Fire Police. More than 10,000 meals, delivered by the Army, were served in the make-shift dining room at Central Fire Station. Duties were punctuated by after-shocks and, when the wind was in the right direction, by swirling clouds of fine silt, the product of liquefaction.
Rugby World Cup - Auckland, 2011


Rugby World Cup duties: the extended Fire Police fleet, Sept/Oct 2011
Fire Police were included in the Fire Service's Tactical Planning for Major Events when arrangements were made for emergency services' management during the Rugby World Cup games played in Auckland. The city ended up hosting more games than intended when earthquake-damage ruled out Christchurch as a venue. Over six weeks, each time there was a game at either Eden Park or North Shore Stadium, Fire Police crews were rostered to standby at Regional Headquarters, ready to respond. 2 additional vehicles were provided by the Fire Service because the Unit also had to provide business-as-usual for emergency calls unconnected with the game venues or the designated fan-zones on the waterfront and elsewhere in Greater Auckland. The idea was that vehicles and crews on duty in the city would make it easier to turn out when there was inevitable traffic congestion downtown and around the venues. Practically all operational members were involved at some stage in the additional duties, "stationed" each evening there was a match on in the Fire Police new headquarters in Regional Headquarters. All told, more than 700 person-hours were put in planning the event, drawing up rosters, arranging vehicles, providing evening meals and on stand-by duties over the 6 weeks.