Our History
It's Our Home, Too, You Know...
Operational Support and Central Fire Station
We've counted the Central Fire Station as home, our headquarters, since the day it opened in November 1944. earlier in fact, because we moved in before the official opening! Members of the Auckland Volunteer Fire Police Corps, forerunner of the present Operational Support Unit, were among those who moved into the new complex some months before the opening ceremony.
---
History
The Fire Police Corps was founded in 1933, based at the old Central Station - across the road from the present Central Station - where we had our office and where we gathered for monthly meetings.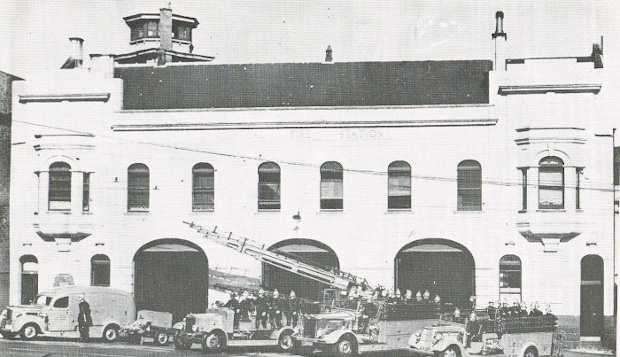 The old Central Station - 1940
It was also where some of our members signed up as auxiallary firemen in the Emergency Fire Service, a war-time force recruited in Auckland to combat the effects of anticipated enemy action: air raids and subsequent fires. Those who remained as Fire Police picked up two additional duties because so many men had enlisted for active service or were posted to special wartime duties. Fire Police were given the task to clean and paint street fire hydrants and to take over from career firemen who had been attending as Safety Officers at places of public assembly. like cinemas, theatres, sports grounds and the annual circus. And they would, as usual, help at major fires.
---
Anticipation
Fire Police personnel could see the new Fire Station gradually rising on the new site on Greys Avenue corner. Construction was delayed because men and building materials were required for the war effort.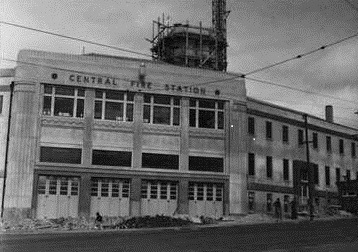 Fire Police watched as the tower was built...
Auckland War Memorial Museum
Fire Police wanted to be part of the Opening Ceremony, whenever it occurred. We were determined to take part, to parade. The long wait until Opening Day meant we had plenty of time to purchase uniforms, to practise our marching and parade drills, and to convince Superintendent Bill Wilson that we should take part. We got our first uniform, khaki shirts with black trousers, ties, belts and caps in time for the big day: jackets came later.
---
| | |
| --- | --- |
| | |
| Armband worn by members on duty | First Fire Police Cap Badge |
---
On November 20th 1944, Fire Police paraded with firefighters from throughout Auckland, to mark the official opening of the new station. They thus confirmed the complex as their home, as it has been ever-since, except for a short period when Balmoral Station served as our base.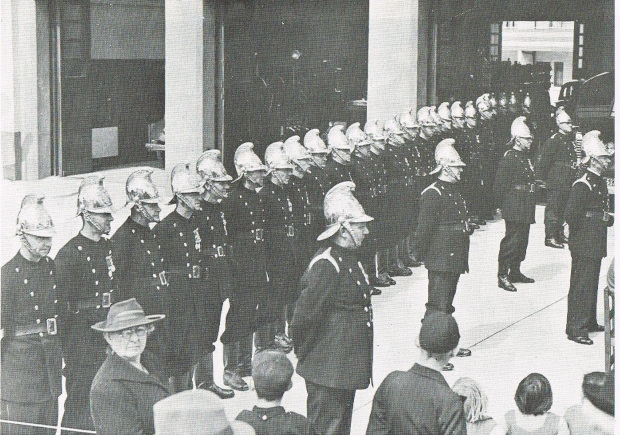 Firefighters on parade at the Opening Ceremony
Auckland Fire Brigades' Museum and Historical Society
---
New Home
Fire Police first held their meetings at the new station in the hall/gymnasium, later in the Board Room. Petrol was rationed during wartime so our members often shared a ride or travelled to meetings at Pitt Street by tram-car.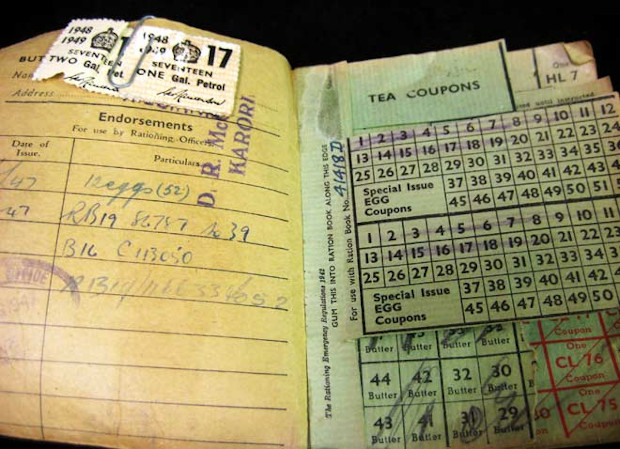 Coupons had to accompany cash for goods rationed during the War
Te Ara - the Encyclopedia of New Zealand
We each sacrificed a ration coupon to help pay for uniform jackets and once the war ended we made arrangements for a unique turn-out procedure. The control-room was to contact radio station 1ZB which would then broadcast a message that "Fire Police should muster at Central Fire Station". We were invited as spectators to the boxing, a favourite sport of Chief Bill Wilson, who had a boxing ring erected in Central Station's spacious hall/ gymnasium. On other occasions we attended the same venue, converted to a cinema for Sunday night movies. Our members joined the community of those at Central Fire Station comprising families who lived in accommodation on site, those who stayed in the single-men's quarters and those on duty.

Our Letterhead in earlier days.
---
Our Milestones at Central Station.
These shaped the life and times of our Brigade:
We welcomed firefighters returning from World War 2: we mourned those killed in action
We were sworn in, given powers of a constable, vested by the Fire Service Act 1949
"... during the period of his service as a member of the fire police, and while so acting shall be deemed to be and shall have all the power and authority and responsibility of a constable."
- Section 34 Fire Services Act 1949
We received our first annual Fire Board grant, £21, at a meeting in 1951
We started regular training, drills and exercises in the early 1950s
We were issued our first full working uniform from the Brigade Store in 1961
We practised using new CB walkie-talkie radios in the early 1970s
We gave up smoking during meetings in 1980
With ceremony, we signed a contract of service with N. Z. Fire Service in 1984
The Agreement makes us an adjunct of the brigade at Central Fire Station
We undergo health checks in 1985, and subsequent years, following the ICI chemical fire
We mustered for a task force to go to assist at flood-stricken Ngatea in 1985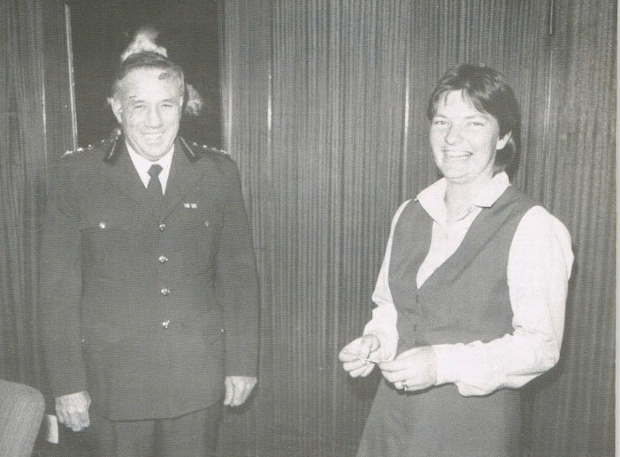 Third Officer David Woodward presents Kay Morrison with her Warrant
Ib Oleson
We swore in our first female member, Kay Morrison, in April 1985
Captain Dick Reid subsequently unilaterally declared a Second Floor toilet to be "unisex"
We celebrated in 1985 when we were accepted into the United Fire Brigades' Association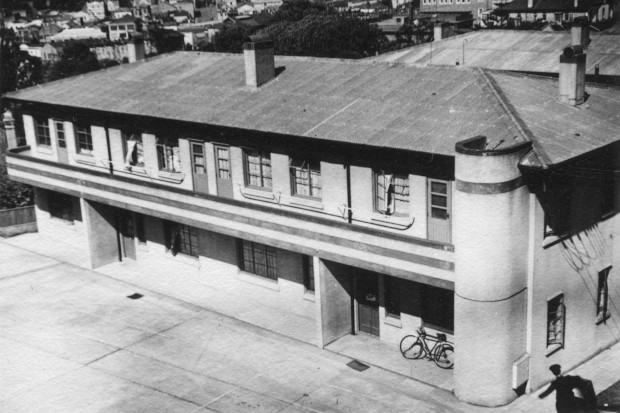 The last of firefighters' accommodation at Central Fire Station
Auckland Fire Brigades' Museum and Historical Society
We watched the firefighter's married quarters' buildings demolished in 1985
We celebrated opening of the Regional Headquarters' building on the site a year later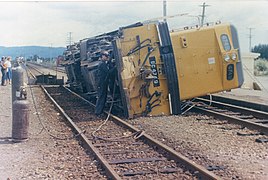 Locomotive overturned in the Bay of Plenty earthquake
We gathered at the station to travel with a task force to earthquake-damaged Bay of Plenty
We mourned our former Captain, Dick Reid, 47 years' service: his funeral in the station, 1992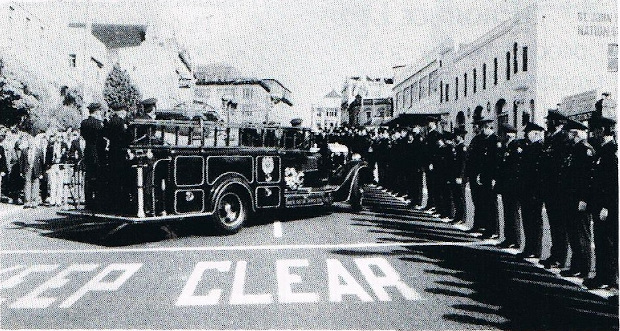 Last Call: Captain Dick Reid departs Central Fire Station
We received an upgraded uniform in 1995: blue helmets were confirmed for all ranks
In 1997 we gathered for a dedication service for our first allocated urgent-response vehicle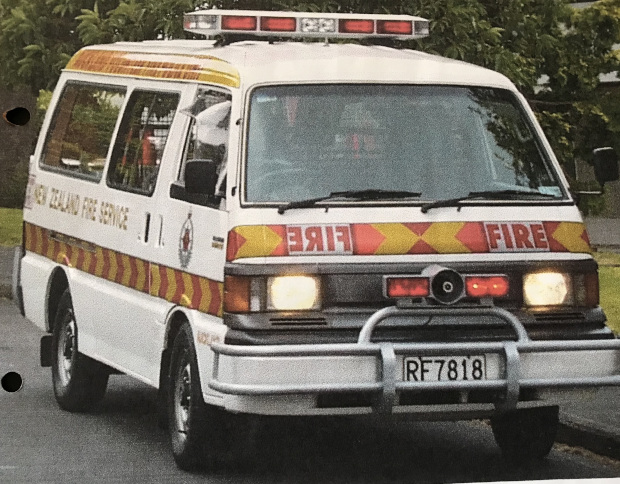 Fire Police 1 - Our first urgent response vehicle
Members attend courses for the first time to obtain "outside" qualifications in traffic control, from 2005
In 2006 we celebrated Ric Carlyon's (MNZM) and Jim Smith's (QSM) Royal Honours
We marked our 75th anniversary in 2008
We changed our name from Fire Police to Operational Support over the 2010-2011 period, with a new uniform
We prepare teams to travel to earthquake-devastated Christchurch in 2011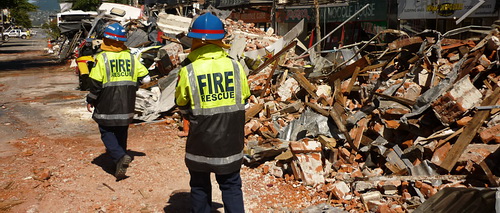 Members on duty in quake-ravaged Christchurch
Extra vehicles and personnel rostered on-station for the Rugby World Cup 2011

Augmented fleet during the Rugby World Cup
We gathered to pay tribute to Auckland's former Regional Commander Allan Bruce in 2015
We marked the change from NZ Fire Service to Fire and Emergency New Zealand in 2017
In Nov 2019 we celebrate the 75th anniversary of Central Fire Station, our home.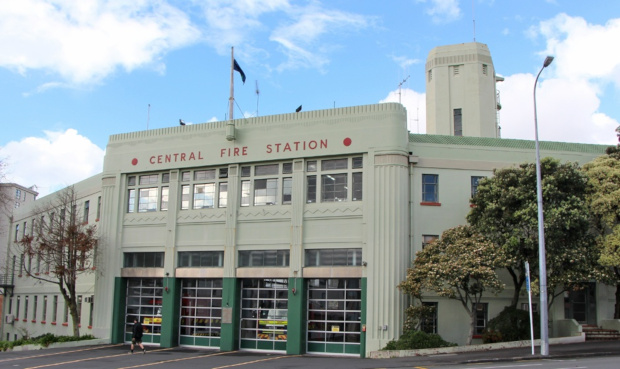 Central Fire Station as it appears today.
John Halpin, via 'Auckland Central Fire Station Memorial', (Ministry for Culture and Heritage), updated 17-Feb-2017